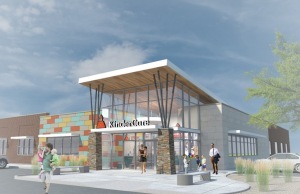 This blog post was sponsored by KinderCare.
A few weeks ago, I had the pleasure of attending a grand opening for the new KinderCare Learning Center in Round Rock. I have to admit I was a little gobsmacked. (Do people still use that word? Well, I'm using it.) The facility was absolutely gorgeous. It had a modern clean design, similar to the dream home I often envision in my head. The furniture, sized for little people, was made of high quality wood and the rooms were full of bright colors and amazing learning tools and activities. The playground had art stations, an outdoor stage (!!), a bicycle track and the most amazing playscape I'd ever seen. If my kids were younger, I would most certainly be registering them in a KinderCare facility. After spending a few hours there, I was sold!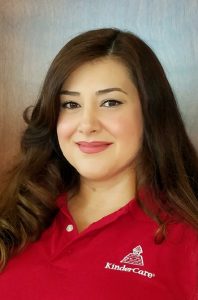 While I was at the grand opening, I had the opportunity to meet and chat with Sheila Rafat, the Center Director. Sheila joined KinderCare Round Rock as a Center Director in June 2017. She's a seasoned early childhood education professional with more than eight years of experience leading programs and talented teaching teams. Sheila is passionate about building relationships with center families and her community, and about educating and caring for Round Rock's youngest minds. I felt like this woud be a great opportunity to pick her brain about KinderCare's philosophy and about childcare options in general. Even if you don't live in RoundRock or near a KinderCare, I hope you can find some helpful nuggets in the interview about how to find the perfect childcare facility for your family.
BPP: KinderCare is referred to as a Learning Center and not a Child Care Center. Can you explain the difference between the two and why this is important?
SR: The early years of a child's life are incredibly important to their brain development. That's why we take an educational approach to caring for every child. Our curriculum focuses on seven key areas: language and literacy development, executive function (decision making and self-regulation skills), social and emotional development, physical development and wellness, cognitive development, and creative expression. We go above and beyond to not only care for children, but to nurture their sense of discovery and set them up for a lifetime of learning and success.
BPP: What is the ideal teacher to child ratio in each classroom, and why?
SR: In Texas, each age group is assigned a different child to teacher ratio. Low child to teacher ratios insure that our classrooms are safe and enriching for every child. With fewer children in the classroom per teacher, teachers can practice proper child supervision and give each child the individual attention they need at early ages.
BPP: I often hear about childcare facilities being accredited. Is KinderCare accredited? What does that mean?
SR: Our center is working on achieving our accreditation through the National Association for the Education of Young Children (NAEYC). The process can be long, but it's worth it in the end. Our center will undergo a rigorous self-study process and we'll be observed and assessed by NAEYC. They make sure our teachers are professional and experienced, that our center is clean and safe, and that our curriculum in practice is appropriate for each stage of development. Once we pass our assessment and achieve accreditation, parents will know that our center provides the highest-quality child care We're pursuing accreditation because we believe in the process and its purpose – to ensure that the care and education we're providing is the best it can be. We believe that when parents enroll at our accredited center, they'll experience the difference.
BPP: What age ranges does your facility serve and how do you customize care along the various stages of development?
SR: We're proud to care for and provide early education programs to children as young as six weeks old in our infant classroom, all the way up to children 12 years old in our school-age program. We've hired a talented team of teachers who are specialized to their classroom. Our curriculum provides age-appropriate activities to support the development of every child – whether they're exploring gross motor skills as a baby, nurturing their individual interests like art and music in Discovery Preschool, or gaining the confidence they need to take the next step in Prekindergarten. We're also excited to offer Learning Adventures enrichment programs, which provide children at all levels with new skills and confidence. Of course, we want learning to be fun for kids of all ages. We make sure there's plenty of learning through play to keep kids engaged and having fun!
BPP: Parents often feel anxious about enrolling their young baby in day care. And yet they often have to get back to work. How do you care for the youngest attendees of your facility, and make sure their that their developmental needs are met?
SR: Dropping off your child for the first time can be a nerve-wracking, even painful experience. We want every mom and dad to know that while their child is in our care, they're just as safe and as loved as they are at home. We're so excited that our center is equipped with a nursing room for new mothers. Moms can drop in on their lunch break – or whenever they like – to nurse their baby in our cozy, private nursing room.
In our infant classroom, we develop babies' minds and bodies by engaging all their senses throughout the day. They experiment with toy instruments, explore textures and colors, and learn new words and sounds through playing with other children. Our littlest learners work on developmental milestones like rolling over and crawling, learn to express themselves and their emotions through interactions with teachers and other children, flex their early memory skills, listen to books read aloud, and more.
BPP: What advice can you give to the parents whose child is having a hard time adjusting to a learning center? What about the child who screams and cries when being dropped off?
SR: I know it can be a hard adjustment to make, but every teacher and staff member here is dedicated to providing the best possible experience to you and your child. We're passionate about early childhood education and care. When your child is with us, she'll feel just as loved and cared for as she does at home!
It's totally normal for a child to have a tough time adjusting to his or her new routine. We take communication with our families seriously – and provide detailed notes in addition to connecting with parents face-to-face when they come in for drop-off or pick-up. We want our KinderCare family to feel like an extension of your own – spending time with your child at the center and taking time to say goodbye each day can help relieve separation anxiety. We're all in this together, and with our parents as partners, we can figure out how to make children feel more comfortable and happy at our center.
BPP: Is there any research that says early childhood education makes a difference in the long run?
SR: Not only do we know that children who attend early learning centers are more prepared for school, we know that KinderCare kids tend to outperform their peers by the time they reach Kindergarten. We conducted a study using the TerraNova, a widely-used standardized testing tool, and found that students enrolled in KinderCare centers for more than one year scored higher than their peers, and that average scores of KinderCare students consistently increased over the past three years. We're proud to offer children an enriching experience that prepares them academically, socially, and physically for school.

BPP: What sets KinderCare facilities apart from other early education facilities?
SR: KinderCare's early childhood curriculum is a huge differentiator – but we're also the nation's most accredited child care provider. Nearly 100 percent of KinderCare Learning Centers across the country are accredited through the National Association for the Education of Young Children, or another accrediting agency. Nationwide, fewer than 10 percent of early learning programs are accredited. I know that parents will see the difference when they walk into our accredited center versus a competitor that hasn't achieved accreditation.We're also proud of our approach to nutrition and wellness. Just last year, we eliminated juice and fried foods from our menus. This year, we eliminated sweet crackers and cookies.
BPP: How early do you recommend expectant or new parents start researching and looking for a childcare facility?
SR: I know many parents that start looking as soon as they find out they're pregnant, and others that wait until their little one arrives. For parents looking to get their baby into an infant program, we recommend they start looking as soon as they can! We're lucky to have three infant classrooms under our roof – but since those classrooms have such a low teacher to student ratio, spots can go fast. Choosing a childcare provider is an important decision. Parents should take their time, do their research, visit centers, and figure out exactly what they want out of a program. At KinderCare, each child will experience a little bit of everything – education, care, play, nutrition, and physical activity. Yes, your three-year old will learn science, make new friends, paint like Picasso, and more!
BPP: If you had to give one sanity-saving pointer to expectant or new parents, what would it be?
SR: Take a deep breath, and remember that we're in this together. Each and every teacher at our center is dedicated to caring for and loving your child like their own. I try to help parents remember that they're never on their own – they have a whole community, a whole family of people at KinderCare waiting to lend a helping hand.
Thank you Sheila for sharing all of this info on KinderCare Round Rock. They are definitely setting the bar high in the world of early childhood education. If you live in the Round Rock area, and have little ones, I highly recommend that you give Sheila a call and tour the facility. You'll be amazed, just like I was. – KB ♥