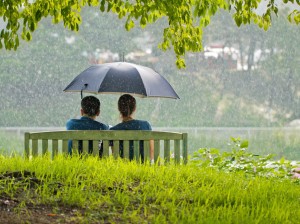 Have you ever wondered what exactly creates chemistry between two people? Or why the characteristics that drew you to a particular person might be the very same traits that drive you crazy later? Perhaps you've pondered why being in a relationship can feel like a whole heck of a lot of work at times.
Yes? Well, you might want to check out the book, Getting the Love You Want by Dr. Harville Hendrix. We're featuring Dr. Hendrix as today's Saturday Share because strengthening relationships is a BPP focus, and Mr. Hendrix eats, sleeps and breathes relationships.
Getting the Love You Want has been around since the 1980's and continues to hang out on the best sellers list because it is just that good. It is the classic that keeps on giving. After going through a divorce himself, Dr. Hendrix set out to discover just what brings couples together and then what tears them apart. In the process, he created Imago theory, a road map to understanding why we choose the partners we do, why we tend to repeat patterns in relationships, and why we inevitably encounter conflict. The cool thing about the book? Hendrix devotes the entire second half to suggestions and exercises designed to help couples work through their struggles and create a stronger bond.
If you are an expectant or current parent (which most of our blog followers are), you will find Giving the Love that Heals to be equally informative and helpful. In this parenting guide, Dr. Hendrix and his current wife, Dr. Helen Hunt, explain that parents often feel the most challenged by their children at the developmental stages in which they did not get their own needs met growing up. They argue that a parent's own wounds and deficits will be healed when they are consciously and mindfully parenting their own children during those challenging times.
Some of the topics explored in Giving the Love that Heals are:
Maximizer and Minimizer Parents – the defensive styles that internally shape what we say and how we interact with our children
A Parenting Process – A system that helps to end the "cycle of wounding" – the handing-down of wounding we received as children – as we raise our own children
Safety, Support and Structure – how to give children what they really need from us
Modeling Adulthood – using our healed sense of self as a model for our children
Both of these books are great reads for couples and parents at any stage. And if you don't have a spare second to pick up a book (which is the case for the majority of new parents!) check out Harville Hendrix's website for helpful tips and exercises.
Here's to strength, sanity and really good books!
♥ – C & K