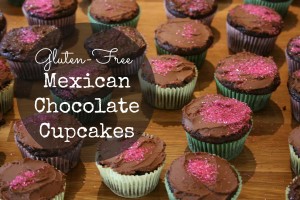 I have frosting issues. It's always either too thin or too thick. I also enjoy waiting until a few minutes before party go time to start the actual frosting, which usually creates a crisis. In this case, it was too thick to spread, so I heated it, which made it a different color from the ones I had already done. My solution was allowing my little birthday girl to cover them with pink sprinkles. Pretty! Plus, it's a cupcake! I appreciate the power cupcakes that look like famous people, but find that simple is often more tasty. This recipe is a variation of one I found on a great website: The Gluten Free Spouse, which is loaded with delicious ideas and great step by step photos. The consistency I get is a cross between a cupcake and fudge. I think that's a lovely combination. I've cut back on the sugar and added some extra spice to give your mouth something new to contemplate, but omit the cinnamon and cayenne to get a basic, yummy treat.
Ingredients:
For the Cupcakes:
1/2 cup gluten-free oat flour
1/2 cup brown rice flour
1/3 cup arrowroot flour (or cornstarch)
1 teaspoon xanthan gum
2 teaspoons baking powder
1/4 teaspoon baking soda
1/8 teaspoon salt
1/2 teaspoon cinnamon
1/4 teaspoon cayenne pepper
3/4 cup cocoa
1 & 1/4 cups sugar
2 eggs
3 tablespoons unsalted sweet cream butter (at room temperature)
1 teaspoon pure vanilla extract
1 cup buttermilk
For the Frosting:
4 ounces cream cheese
1 tablespoon butter (at room temperature)
2 ounces unsweetened chocolate
1 cup sifted powdered sugar
Technique:
Preheat your oven to 350 degrees. Line muffin tins with paper cupcake liners (you'll need about 20, but don't stress if your batter makes more or fewer). With an electric mixer, beat the butter and sugar on medium-medium high speed until well blended. Add the eggs and vanilla, and beat on medium until well blended. In a medium sized mixing bowl, use a whisk to combine all the remaining dry ingredients. 1. Add 1/3 of the buttermilk to the mixer, and beat until it's incorporated and smooth, then add 1/3 of the dry ingredients, beat until incorporated and smooth. 2. Use a rubber spatula to scrape down the sides of your mixer bowl. Repeat steps 1 & 2 twice more, ending on the last of the dry ingredients.
When it's all mixed up and looks smooth and delicious, scoop batter into the cupcake liners, filling them 2/3rds full. Bake them until a toothpick inserted into the middle of a cupcake comes out mostly clean (a few crumbs will stick, and it's okay if they're slightly undercooked – they'll be like gooey brownies), about 20 minutes. Allow the cupcakes to cool on wire racks until they're room temperature.
Meanwhile, make the frosting! Melt the chocolate over low heat in a small saucepan and allow it to cool. Combine the cream cheese and butter, beating them with your mixer until they're smoothly blended. Add the chocolate, and beat until it's incorporated and smooth. Gradually add the powdered sugar, about 1/4th cup at a time until it's incorporated and smooth. Spread the frosting on your cupcake and then attack with pink sprinkles. Yum!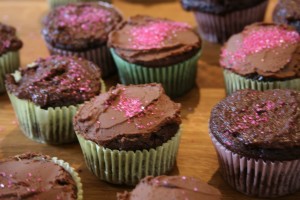 Cheryl's Tips:
Mistakes are f'ing beautiful, and in many cases, delicious. If you botch a recipe, it means you put your own spin on the directions and got a different outcome. Which means you can't be tamed. Which means you're so pretty.
Here's To Sanity and Cayenne Pepper,
Cheryl