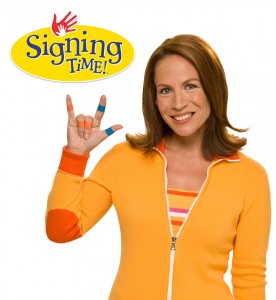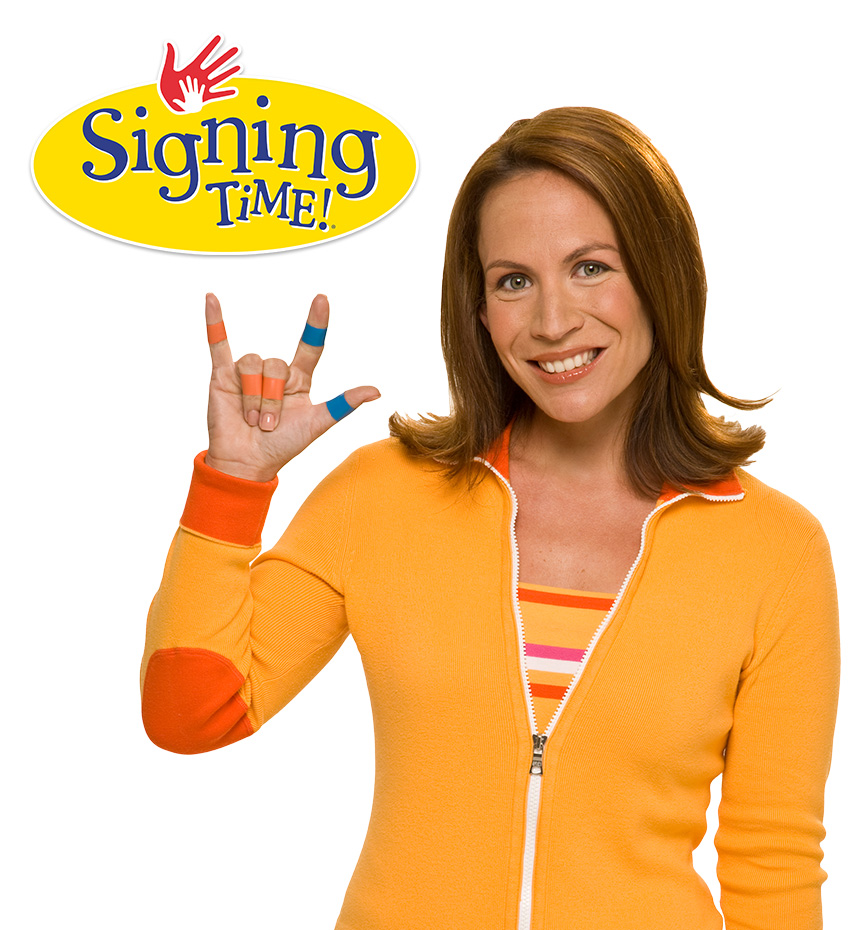 Meet Rachel Coleman. She is the mother of two exceptional children. Leah (18) is deaf, and Lucy (15) has cerebral palsy and spina bifida. Rachel's desire to create a world where children can communicate regardless of their abilities (or disabilities) led her to co-create and host the DVD, public television, and Netflix series "Signing Time!" for which she received an Emmy nomination in 2008. Rachel also co-created and hosts Baby Signing Time, and Rachel & The TreeSchoolers. Rachel is a mentor and source of inspiration for countless families around the world who have children with disabilities. We are thrilled to feature her on the BPP site because our children grew up watching her teach sign-language on PBS. She is a celebrity to our children and an inspiration to us grown-ups!
BPP: On your website, you tell the story about how the "Signing Time!" television series was born. Can you share a little bit with our readers about your amazing family and how you ended up becoming America's most beloved sign-language teacher?
RC: My daughter Leah was one-year-old when we realized she was deaf. Since she was only one, we thought it would be best to communicate using American Sign Language. Even if she could hear, we reasoned, she wouldn't be speaking at such a young age. Turns out it was the smartest choice we made. It seemed obvious to us; she can't hear, she can see, she has great fine motor skills. It would have felt crazy to me to start trying to teach her English, since she couldn't hear me at all.
Her cousin, Alex Brown was born shortly after we found out Leah was deaf, so my sister began signing with Alex on day one.
Over the next three years, Leah's language skills and ability to communicate were nothing short of astounding. At age two, she knew the alphabet in order (in ASL). She was reading written words, because some every day objects don't have a sign, so you fingerspell them. She initiated amazing conversations about the world around her and her perspective about the world! This ability to communicate, without tantrums, tears, or upset, fostered a real respect between our child and us.
When Leah was age four, I could see that socially she was becoming more isolated. It doesn't matter to your playmates if you are deaf at age one, two or three. Around age four they start to notice. It was at this time that I began to start thinking about a way to alleviate the fear, nervousness and worry that others had when they realized she couldn't hear them. I started with an ASL Story Time at a local co-op preschool. These students interacted with Leah in the community. They were the kids she saw at the park. They played on her soccer team. The results surprised me. With just a few signs, the other children were no longer afraid. They were empowered and courageous!
BPP: Early on, you realized that sign language could be beneficial to all families with young children, not just your own young family of four. Can you share how parents can use signs to communicate more effectively with their young babies and toddlers? 
RC: I see signing as an essential parenting tool, but only if you are interested in fewer tantrums, early and independent potty training, and having a consistent and silent behavior management tool. Are you interested in your youngster learning all of their preschool skills before they can even talk? Early literacy and learning a second language all have benefits and I built that into "Signing Time!" Are you sold yet?
Many moms already feel overwhelmed with their circumstances, living situation, finances, and especially if your child has any special needs. It really can seem like signing is a "luxury" that can only be learned by moms who have plenty of time.
I've heard that excuse and others, over and over again, because my child is deaf. "I would love to learn to sign, but I just don't have the time!" That is also at the heart of "Signing Time!" I don't waste time. Why? Because I am a busy mom too! I quickly and effectively teach you 18-25 signs in a 30-minute episode. I teach you in a way that will help you to actually remember the signs, without studying, without the additional time away from your family driving to and from a class. Your children will begin to initiate this learning experience, because it's something you get to do together. They want to spend time with you. Signing forces you to put down your phone, turn away from the screen and look into your child's eyes as they look into yours. Signing with your children fosters real communication in a day and age when that seems to be disappearing.
BPP: You have a background as a lead singer in a folk rock band. What was it like to transition from stage musician to TV and instructional video host?
RC: I promise, I had no idea that this was what I was going to do "when I grew up." I quit doing music shortly after Leah was diagnosed as profoundly deaf. I just didn't have the heart to spend time pursuing something that might be lost on her.
When my sister, Emilie Brown and I created "Signing Time!" we really thought 4-year-old, Leah and 3-year-old, Alex, would host it. That's how we shot it. In the edit bay we realized they were terrible at modeling the signs! No one would learn anything from them. Emilie looked at me and said, "It's you. You are the one."
I resisted that. For years I resisted. Every time we filmed a new episode I declared, "Well, that's it! Who could possibly want more than 3 episodes of Signing Time!" The next time around, "Well that is it! Who could possibly want more than 6 episodes of Signing Time!" We've been creating "Signing Time!" for 15 years now. Leah is 18 and I just took her to Rochester, New York and helped her set up her college dorm room. Alex is 17 and a senior in high school. They are still best cousins and best friends.
I am now completely settled with the fact that I grew up to be "Rachel Coleman, from Signing Time." I am "Leah's Mom." I am also "The Signing Lady." Some kids keep it simple and call me "Signing Time" when they see me. Just last week my niece, Mercy, said to her mom, my sister Sarah, in a hushed voice, "Mom, that's Rachel and the TreeSchoolers!"
BPP: Signing Time has been featured for many years on PBS and Nick Jr.. What is it like to be a celebrity in the world of children's programming? Do people recognize you when you are out and about?
RC: I am always shocked that people recognize me. I don't go around in life expecting people to know who I am. I'm not an A-list, or B-list or even M-list celebrity.
I am a mom. I am a wife. I am a sister. I am a daughter. I am a business owner. I am a creator. I am always creating, brainstorming, fundraising, crowd-funding, tweeting, posting, sharing, fine-tuning, marketing, writing songs and writing scripts.
Sometimes it's like drinking out of a fire hose. I used to complain about being so busy, and say things like "I wish things would finally calm down." I realized that just isn't true. I love traveling, performing, and writing songs. I love the families I get to meet when I am doing concerts. I schedule 2-3 hours to meet everyone after each show, and I've done over 200 live concerts.
If all I get is this one life, I am happy with how I'm living it. I give children a "voice." We give families peace. Some of my Signing Time fans may never be able to say the words, "I love you!" or "thank you" with their voices. I teach them to say that, and so much more with their hands.
BPP: The creation and production of Signing Time is truly a family affair – your husband, sister, brother and father are all involved. Your daughter and nephew were major players in the early videos. Did your kids enjoy being part of the productions? Did they ever lose interest or tell you they didn't want to be involved any more? 
RC: Just last year we released Signing Time Christmas. This year we will be releasing Signing Time Sentences. These shows star Alex and Leah, as the Signing Time Series always has. Alex and Leah have always been willing to perform for Signing Time, they often make surprise appearances on stage at live Signing Time Concerts and they stay after for the meet and greet. They say, "We are the perfect amount of famous! We get to have fun and kids love us, and we still live normal lives!"
BPP: At times, your shows have been turned down by big studios for being "too educational for television." What are your thoughts on this criticism? Your fan base seems to disagree. 
RC: At first I saw that as criticism, but if you actually watch many children's television programs, you'll likely agree. We pack each moment with multiple concepts delivered through multiple senses. Since we don't have the massive financial overhead that the studios have, we are able to create our shows without the concern of selling backpacks, food packaging with our characters on it, toys, bedding and the many ancillary items that help fund the huge cost of most children's television shows. Our shows are created at a fraction of the cost and we are free to deliver plenty of content because we answer to our Signing Time Families, not to a board or to shareholders.
BPP: What are the first five signs that a parent should learn? Is there a video or episode that you recommend to a 1st time parent who has no experience with sign language?
RC: I actually created a product line called "Baby Signing Time!" to answer the needs of 1st time parents with an interest in signing, but are coming to it with no experience. Baby Signing Time teaches you your 100 first signs and concepts in American Sign Language and in English. We cover all of that in just four episodes. That is where you start.
"Signing Time!" is really a preschool skills curriculum. You learn American Sign Language and English for over 1000 words. Each word appears multiple times on the screen, so it's an early reader, sight word system as well. Signing Time is 26 episodes, 30-minutes each.
We cover colors, counting, alphabet, animals, family members, zoo animals, farm animals, toys, transportation, weather, days of the week, months of the year, sports, signs you need in a school day, signs you need in the morning, afternoon and evening.
I even teach your children how to correctly set the table, and to ask to be excused from the table. We teach manners, hygiene, items of clothing, cleaning up your belongings, helping out around the house, the rooms in your home and the items in those rooms.
Like I said, I'm a busy mom. I write all of the songs to encourage positive behaviors and the songs reinforce your children being kind to others and being responsible for their bodies, their rooms and their belongings.
"Signing Time!", "Baby Singing Time!" and Rachel & The TreeSchoolers really were created by two very busy moms who are out to make things easier for other busy moms. Here are the links:
www.babysigningtime.com 4 Episodes 100 ASL Signs
www.signingtime.com 26 Episodes 1000 ASL Signs
www.treeschoolers.com 8 Episodes 20-60 signs per episode.
BPP: Along with the award winning sign-language products you mention above, you offer the Signing Time Potty Training system. How can sign language be helpful when a child is transitioning out of diapers?
RC: Your child can understand and communicate the following concepts through sign language, "potty", "wet", "dry", "diaper", and "clean", long before they have the ability to say the actual words. A child who can recognize and label what is happening with their body can also communicate those things to you, the caregiver, before it actually happens! Communication is the bridge. Since they cannot yet speak words, the signs help have all of the pieces in place and go beyond words. We have a free app on iTunes "Potty Time" and it is very effective at encouraging, and then reinforcing potty training in a positive way.
BPP: You offer an instruction training and certification program for individuals who want to offer sign language courses in their own communities. What has the response been to this program and how can parents find an instructor in their area?
RC: Visit www.signingtime.com/academy to become a Signing Time Academy Instructor, or to find an Instructor and find classes near you. Many of our Signing Time families find themselves telling everyone around them about Signing Time. We offer a way for you to share Signing Time with your community by teaching Signing Time Classes and selling Signing Time Products. It's an amazing group of people who really care about supporting each other and making a difference in their communities.
BPP: Your daughters (all three of them!) have grown up to be beautiful, independent, intelligent young women. Do you have any words of wisdom or advice for parents who are raising children born with a disability? Or any advice for new parents in general?
RC: It's going to be okay. Really! Breathe, play, relax, and enjoy your children. It's going to be okay.
Rachel Coleman is TRULY a busy lady. We are so appreciative that she took the time to connect with us on the blog and share just a bit of her ample wisdom and positive energy. Thank you Rachel! We look forward to seeing you singing, signing and teaching ASL for many years to come. – Kirsten ♥ 
Follow Rachel on Facebook: http://www.facebook.com/signingtimerachel
Follow Baby Signing Time! on Facebook at: http://www.facebook.com/babysigningtime
Follow Signing Time! on Facebook at: http://www.facebook.com/signingtime

And be sure to check out all of Rachel's amazing shows, programs and products at: http://www.signingtime.com/