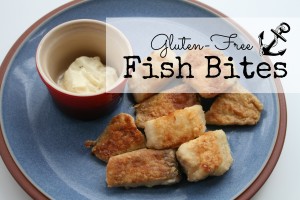 Van De Kamps frozen fish sticks and frozen clams.  A meal I remember from childhood, complete with the little frozen packet of relish we mixed with Miracle Whip to create tartar sauce.  I remember the sound accompanying preparation:  frozen chunks of seafood (or what resembled seafood) cascading through the air to clatter and bang onto a metal baking sheet.  Then the taste and texture…mmm…rubbery.  Damn good, but our fish bites are healthier, and dare I say, even better tasting.  If you've tried your hand at our gluten-free chicken tenders you'll recognize this technique – slow cooking over low heat gives you the lovely, golden result.
Ingredients:
3-4 tilapia filets, rinsed and patted dry
1/2 cup brown or white rice flour
2 tablespoons olive oil
kosher salt to taste
1 recipe garlic aioli for dipping
Technique:
Cut the tilapia filets into bite-sized chunks, trying to keep the sizes as uniform as possible.  Place the rice flour in a medium sized bowl, and add the fish, making sure each piece gets coated by the flour.  Meanwhile, heat a large non-stick skillet just below medium for a couple of minutes, add the olive oil, then allow the skillet and oil to heat 2-3 minutes more.  Tap the excess flour off the fish bites, and carefully place them in the skillet in a single layer (you might have to add more oil and do this in two batches).  Sprinkle the fish with a little kosher salt, and swirl the oil in the pan so each piece has a little to sizzle in.  Fry the fish for about 3 minutes, then gently lift one piece with tongs or a thin spatula to check the golden-ness.  When side 1 looks yummy golden brown, carefully flip the fish to side 2, then swirl the oil around the fish again.  If the pan looks dry or it seems the fish is sticking, add a little more oil.  Cook for about 3 minutes, then check to see if side 2 looks golden.  Lightly press the fish with the spatula, and when it feels firm, carefully scoop it out, allowing it to cool for a minute or 2 before serving it with the delicious aioli.
Cheryl's Tips:
Serve this with oven-fries and malt vinegar… Fish n' Chips!
When I started getting more serious in the kitchen, my sweet sister gave me a copy of the classic staple The Joy of Cooking for my birthday.  The book has zero photos and reads like a novel.  It forced me to start the habit of reading every recipe I tried from start to finish before heading to the grocery for ingredients and attempting it, because a few times I realized mid-way that I'd missed a very important step that wound up adding a ton of time to the preparation.  Maybe you read, "chicken, parsley, hummina hummina hummina sounds good, go!"  You dive in, and then, when you least expect it, "RUTABAGA."  AGGHHHHHHH!!!!  Reading ahead prepares you if the recipe involves a technique you've never tried or new ingredients you haven't used.
Here's To Sanity and Van De Kamps,
Cheryl