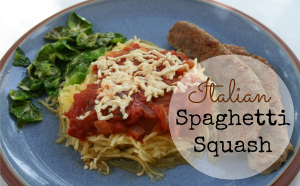 Spaghetti squash is a magical vegetable.  The name says it all – when you roast and cut into it, the flesh divides into uniformly sized, al dente spaghetti "noodles".  If you eat a paleo or gluten-free diet, finding layering base foods for sauces and proteins can be a challenge.  It's easy to get bored with grilled chicken or steak with veggies, and spaghetti squash is your ticket to a new culinary ride.  I could be imagining this, but it seems the smaller the squash, the smaller the noodles.  I recently roasted a little guy (again with the veggie/male personification…what is that about?) that produced the squash equivalent of angel hair pasta.  This makes me want to squeeze Nature and exclaim, "You're so CUTE when you're not chaotically cataclysmic!"
Ingredients:
2 lbs spaghetti squash (1 medium/large squash or 2 small)
2 teaspoons chopped flat leaf parsley or basil
1 tablespoon olive oil
1 tablespoon kosher salt
4 cups Fast Times Marinara or your favorite jarred pasta sauce (c'mon, make your own…you can do it!)
2 cups shredded mozzarella or vegan cheese (see tip below for more on this)
Technique:
Start this recipe early in the day, baking the squash and making the sauce while you're doing other stuff around the house.  This will allow cool down time, enabling you to work with it and add the other ingredients just before mealtime.  Preheat your oven to 350 degrees, wash the spaghetti squash, and pierce the skin all over (about 10 pokes) with the tip of a small knife to keep it from exploding while it roasts.  Place it on a foil-lined baking sheet, pop it in the oven, and roast for 45 minutes.  When it's cooled down enough for you to handle, slice it in half length wise, and scoop out and discard the seeds and slimy strands from the middle.  Using a fork, dig into the squash, shred it into noodles and scoop it out into a large mixing bowl.  This is deeply satisfying.  Add the parsley or basil, olive oil and salt (use less if you're sensitive.  I find that the squash has a slightly sweet flavor, and use extra salt to quell it, increasing savory compatibility) and use two spoons to toss it together.  (You can stop right here.  This makes a treat of a veggie side to go with any meal.)
Spread the seasoned squash in a lightly greased rectangular casserole dish, or if you're feeling fancy, small individual serving casserole dishes.  Top it with the marinara, the cheese, and the protein of your choice (see ideas below).  Pop the casserole back into the oven and bake until the cheese melts and the whole deal is hot and bubbly, about 20-30 minutes.  The squash produces a lot of liquid, so use a slotted spatula to drain a little off as you serve it.  And then eat it.  And then smile.
Cheryl's Tips:
Daiya vegan cheese is delicious.  It melts perfectly, and has a lovely cheesy flavor with no weirdo ingredients.  We try to avoid dairy, and this product has enabled us to make enchiladas, quesadillas, pizza, etc. without missing real cheese at all.  I buy 5 bags of our favorite (the mozzarella shreds) at a time, keeping one bag in the fridge and the rest in the freezer until I'm ready for them.
I photographed the squash alongside a link of chicken Italian sausage, casing removed, sliced lengthwise and cooked over medium heat until golden and cooked through (about 5 minutes per side).  Other protein adds: you can throw a handful of walnuts or some browned bison on top of the cheese before the final baking step.  I often add a fried egg to the baked squash with swoon-worthy results.  Also in the photo – I grilled Brussels sprouts and gathered up all the little leaves that fell off as I skewered them.  I sautéed the leaves in a skillet over medium-high heat in a teaspoon of olive oil until they were soft and browned, then sprinkled them with a little kosher salt.  Delightful.
If you listen to "Blow (Cirkut Remix)" by Ke$ha and take dance breaks with your kids while you're cooking, your food will be infused with awesomeness.
Here's to Sanity and Chaos,
Cheryl