We welcome you to stay awhile and tour our website and blog:
Mondays are reserved for Musing.  We're parents, and we're therapists.  We've tried, failed, succeeded, and analyzed ourselves relentlessly.  We hope the results will inspire, comfort, or make you laugh. This is where we share our personal journeys and our (often humorous) attempts to stay sane.
On alternate Tuesdays, we post Tips.  We offer some new, some tried and true, helpful suggestions aimed at keeping you on solid ground as a parent.
One Wednesday a month is for Wisdom.  Maybe  there's no official manual on parenting, but there are some amazing parents and professionals with rich experience and insight.  We interview them, sharing their stories and advice here.
On alternate Fridays, we are all about the Foodies.  Enjoy a recipe, video, cooking tip or article to make your kitchen time more enjoyable, and your family table the place to be.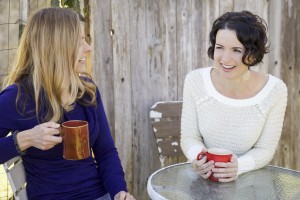 Sound good?  Subscribe to our blog. Enter your e-mail address in the "Subscribe" box on this page, and have all of this deliciousness delivered right to your inbox.  Or better yet, come to one of our BPP Workshops.  We provide an evening of learning and laughter sure to strengthen your confidence and relationships.  Make it a date night, and load up on helpful tips for maintaining your post-baby sanity.
We hope you stick around to get to know us. We're here to be a resource to YOU.
Here's to strength and sanity – Cheryl & Kirsten