Meet Terry Cox… amazing dad to one of the coolest kids we know.  We're excited to feature Terry because he brings two perspectives to our Wisdom table: that of an adoptive parent and a single dad.  Terry describes himself as a South Austinite, trying to stay young in mind and body. Terry worked as a licensed counselor for several years before transitioning into a business development role that he has grown into for the last 10+ years.  His hobbies include cycling, surfing, and staying active enough to eat Mexican food whenever he wants.  His top priorities in life are his faith, his son, his health, and his close friends and family.  Terry and, his son, Kyler, just radiate joy when they're together – and it's infectious.
BPP: Please tell us briefly about what led you to decide to adopt, and how you chose the agency?
TC: My now ex-wife and I both shared a desire to adopt a child even prior to our marriage.  She has a bi-racial daughter who played into our decision to have a "multi-color" non-traditional family.  We looked at both adoption and fostering, and it really became a no-brainer for us to go the foster to adoption route.  There is a huge need in our community in the foster system, plus it didn't make sense monetarily, logistically, or for other reason for us to go the international adoption route.  We chose a foster agency that provided information and training, and off we were.
BPP:  As a father to be – how did you emotionally/mentally prepare for your son's arrival?  What if any of those preparations felt unique to his being adopted?
TC: Things happened very fast for us.  Just a month after completing foster training, we got a call about Kyler (my son).  The agency gave us specifics about him and his biological parents, and told us we had 48 hours to make a decision (he was about to be discharged from the hospital at 4 weeks old). After much discussion with each other and family, and prayer, we decided that he was our boy.  It's a pretty surreal experience.  One day you are on a business trip, the next day there is a knock on your door from two women holding your new baby.  It's like the stork showed up.  From a preparation standpoint, we had nothing set up, not even a nursery.  Just open arms and hearts to welcome this amazing little baby.  In our experience, it seemed all the prep work that people feel they need is sometimes manufactured and causes more stress than good.
Emotionally, we just began the process right there, raising our son.  This was a wild ride, but I dove in head first and loved watching my son begin to bond with us.  Unique to adoption, for me, is this overwhelming feeling that I chose this specific boy.  There was a need, and we filled the void, and in turn he filled us.  It's a great emotional experience.  It has strengthened my faith in many ways.
BPP: How did you feel and respond (both positive/difficult aspects) as you watched your new baby form the huge bond with his mom?
TC: I loved watching him bond with his mom, his sister and his extended family.  As parents, we developed the safe and secure world that our son would thrive in.  One thing I'm proud of is that even though our marriage didn't last, we created a very nurturing and thriving environment for Kyler that continues today.
BPP: How did you and your baby's mom try to support each other through the transition of adoption, and then welcoming a new baby?
TC: We were a team for the most part.  We shared night and day duties and were both active in all aspects of raising our baby.  With that said, things got stressful with new routines, habits, etc.  Looking back, I realize how we just took things as they came and adjusted to the moment.  Our extended family was very supportive as well.
BPP: What advice can you give new moms on how to best include and support their partners during this insane new parent transition?
TC: Make your partners a part of the process.  I'm sure that looks different for each person, but communicate and encourage your partner to participate in all aspects.  I think men can be passive and on the sideline, and my in opinion, nothing good comes from that approach.  Be active and engaged.  Moms… push your partners to engage.
BPP: When you went through your divorce, what steps did you take to keep yourself sane and strong as a parent?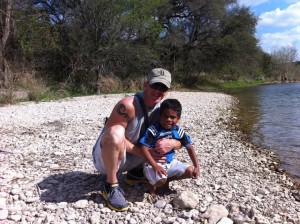 TC: Family, family, family.  My sister lives nearby and provided much emotional and logistical support.  I also re-invested in key friendships and in activities that re-fueled me like exercise.  After our divorce, my son was a little over a year old and was with me 50% of the time.  I was still very active in raising him, and had to learn to co-parent with my ex.  Some may think that raising a son caused more stress for me through the divorce, but playing the role of father is what kept me sane.  I realized that being a dad was the biggest return for me.  It kept me focused.
BPP: What are some of the biggest challenges you've faced in co-parenting with your ex?  How have you tried to address the challenges?
I think the biggest challenge is watching your tongue and not lashing out at your ex, even if it feels warranted.  A challenge for our situation is remaining calm with each other when one of us is stressed or irritable.  Another challenge is having to navigate logistics with holidays, work requirements, birthdays, etc.  The better two people can extend grace to each other and recognize that they are really on the same team, the better things can go.  Patience and taking a one-down approach, even when it's not easy, always pays off in the end.
BPP: What advice would you offer new parents who end up divorcing while their children are young?
TC: Swallow your pride and remember, you have a child together, and your number one priority is to raise him or her to be healthy.  If your feelings get hurt, get over it…it's never as big a deal as it seems.  If you're angry, pause, and then pause again.  Never talk about a heated topic like visitation or money when you're angry.  As much as you can, learn to celebrate key things for your child (birthdays, sporting events, church, milestones, etc.) together.  Don't put your child in the middle of having to plan two things to placate his feuding parents.
BPP: If you had to give one sanity-saving tip to new parents, what would it be?
TC: Don't compare yourself to others…everyone is different…be genuine and real.  Whoops, that may be more than one.
Thank you Terry, for sharing your story with us.  We are grateful for awesome dads like you. – C & K ♥