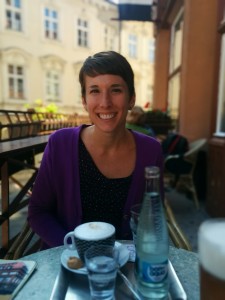 Meet Allison Lambert. She is an ACE certified personal trainer, former psychology teacher and college athlete. Her desire to help women get healthy lead her to create The Fit Tutor, an online fitness service for women. Some personal trainers wear camo pants, yell a lot, or show off their six-packs to motivate their clients. Not Allison. She believes in eating chocolate, buying lots of shoes, and encouraging clients by walking along side of them on their fitness journey. She uses her knowledge and enthusiasm to help women feel confident and overcome any fear of working out. We were so interested to chat with Allison because her inexpensive, at-home fitness programs are perfect for the busy mom who wants to start making self-care more of a priority. Getting to the gym can be challenging when you have a young child – Allison brings the gym to you.
BPP: Your website provides a really unique service: affordable online fitness regimens coupled with personal training. How did you decide to launch The Fit Tutor? What was your inspiration?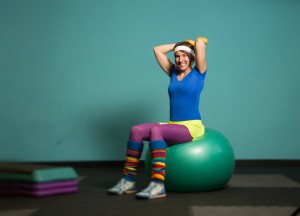 AL: My passion is to help women be strong, confident, and healthy. My heart breaks every time I see someone start and stop an exercise regime because it was too hard or time consuming. I see this a lot with popular exercise videos or even pins on Pinterest. I talk with women all the time who want to lose weight and get stronger, but they feel like they don't have time, don't know what to do, or can't afford a trainer.
My desire is to make healthy living attainable so women can look and feel their best! The Fit Tutor provides good, safe instruction, and the ability to workout when it fits in your schedule.
BPP: What are the advantages to signing up with the Fit Tutor vs. signing up with a bootcamp, local personal trainer or a gym?
AL: I personally disliked paying for a gym membership only to have to go through the hassle of getting there on a busy day and then waiting for equipment. I actually just quit my gym this year, and have been working out way more consistently at home. The Fit Tutor helps minimize excuses to skip a workout. (See her article "15 Reason to Work Out at Home")
As a personal trainer, I think there's nothing better than working one-on-one with someone. In reality, that's just not doable for everyone. With The Fit Tutor you get demonstrations, modifications, and workouts designed by a trainer that are really effective! And you definitely don't have to pay the price of a trainer. We also offer nutrition coaching, accountability, and your own personal cheering section, too.
Boot camps are awesome and fun, but they can be hard to stick with. They start and stop, so every few months you have to find that self-control, determination and a large amount of money upfront to decide to keep going. You usually don't get the individualized instruction you need for a safe and effective workout, either. With The Fit Tutor, you still get community, effective workouts, and accountability, but it's easier on your bank account and better for the longevity of your workout regime.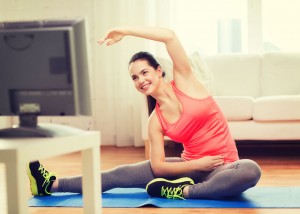 BPP: I'm sure that a lot of people are curious about how The Fit Tutor provides personal training services online. How do you stay connected to your clients?
AL: This is by far my favorite part of running The Fit Tutor. I reach out to all members by email when they sign up, and I continue our contact based on the client's needs and wants via email or other social media. Some people prefer to be left alone, but most want more contact for encouragement, accountability, questions or nutrition coaching. My favorite is our Facebook accountability group. It's a fun group of women of all levels and walks of life who encourage and check in with each other!
BPP: What are the hesitations or concerns that you hear most frequently from potential clients about signing up for an exercise program? How do you answer these concerns?
AL: Most people I talk with are concerned about failure – whether it's not having enough time, not being able to do something, or doing but not succeeding. We offer workouts in as little as four minutes, so I encourage people that they DO have the time. I've worked with personal training clients in every condition, and I've tried to make the beginner exercises doable for people who have never worked, just had a baby, or might be arthritic, obese, etc..
My programs are effective, and doing them combined with our nutrition coaching, I think it would be hard to fail. They might not lose weight as fast as they'd like to, but I'm committed to helping each woman succeed.
You being healthy and energetic is such a gift to your family. It's worth pushing through whatever fears you have to make this a priority.
BPP: Are your workouts appropriate for someone who has never exercised before? If so, how do you introduce them to exercise?
AL: Yes! I've designed each video to be helpful for someone who has never done strength training before. Each video shows an example along with demonstration, so there's no question on how to perform each exercise. The best way to start for someone new to exercising is our Beginner Get Fit program. It starts you off slow and has a good combination of learning new exercises plus repeating others so you can see your progress.
BPP: What kind of equipment do your clients need to do the workouts in their own home?
AL: All you need is the Internet and a pair of dumbbells. A yoga mat is helpful, but not necessary. Every exercise is performed with either body weight or dumbbells.
Strength training is one of the most effective and efficient ways to lose weight, so our workouts focus on strength training (without getting bulky) and at-home cardio routines to help shed fat.
BPP: Many of your members are mothers. Can your workouts be done with babies or older children in the home? Do you incorporate stress-reducing exercises/suggestions (because you know we mothers can benefit!)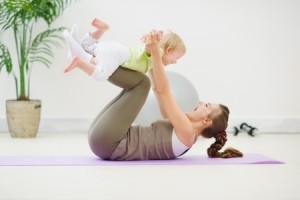 AL: Yes! Many moms have said they do workouts during nap time, or out in the yard during playtime, or even with their kids crawling all over them. I've sent moms workouts they can do using their kids as the weight, and have received awesome videos of kids doing exercises right alongside the parents. Teaching children that exercise and health matter is so important, and it's healthy for them to see Mom making her health a priority. Strength training is a great stress reducer, and we also have yoga cool-downs to help for those who are extra stressed.
BPP: Does the Fit Tutor have tailored work-outs for expectant moms? How about couples? 
AL: Expecting moms can usually do all of the beginner exercises, with the exception of core work. For now, I'm working one-on-one (via email) with expecting moms, putting together a few workouts and videos to help them with what they can and cannot do. I have a section for pregnancy workouts by trimester in the making, and I'm so excited to have this section finished!
Although there's nothing specific to couples, every workout can be done with a friend. I love getting messages from members who say they did a Fit Tutor workout with their husband or boyfriend.
BPP: You have some really interesting nutrition, food and wellness-related articles on your blog. Are these topics that you incorporate into your personal training?
AL: Yes, because I believe the best results come from both nutrition and exercise. I currently offer nutrition coaching based on small, healthy changes that add up over the long run. I think that's important for parents especially, because totally overhauling your diet can be overwhelming. I also believe it's important to have a healthy body image and a healthy relationship with food, and I help clients deal with these issues as they arise.
BPP: Does the Fit Tutor have programs tailored for weight loss? Do they get advice from a dietician?
AL: We have several Get Fit Programs, with more in the making. Our current Get Fit Programs are 8 weeks long and are designed to gain strength and jump start your weight loss. These programs, coupled with the nutrition coaching, can be powerful in achieving your goals! The Fit Tutor focuses on making fitness and healthy eating a lifestyle, so we incorporate different types of workouts for any schedule, as well as accountability for those who need that type of help.
As of next month, I will be a certified nutrition coach and will start incorporating meal plans for an extra charge, but the nutrition coaching is included in the membership price.
BPP: If you have to give one piece of sanity-saving advice to a new mom, what would it be?
AL: I tell moms all the time to not stress about getting their bodies back. I believe your body is already incredible because it grew and birthed a human! I help moms focus on doing what they can with eating healthy and exercising during this crazy adjustment time in their lives. In time you can and will look great again, but making that a focus or setting unrealistic expectations can only cause more stress and negative emotions. Do what you can and breathe a sigh of relief.
Thank you Allison for sharing about your unique and accessible fitness service. One of the goals of this blog is to connect our readers and subscribers with resources that will make life easier, healthier and happier. You are definitely one of those amazing resources. – C&K ♥
Check out Allison's info packed blog at: http://thefittutor.com/blog/
Learn more about her online fitness services and free trial: http://thefittutor.com/
Follow her on Facebook at: https://www.facebook.com/fittutor