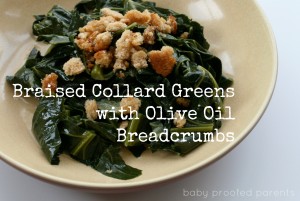 Okay.  I'll be straight with you… my kids become mildly offended when I serve greens to them, rendering this recipe slightly less than family "friendly".  But, as you're gathering, BPP is all about self-care, which carries over to how your kids see you taking care of your own body, and the resulting impression on them. There are lots of suggestions out there on getting veggies into your child's diet. My two approaches are to purée and hide them (more on that in the Cheryl's Tips section below), or to give them a healthy serving, and when they protest, announce, "Mister Collard just wants to sit on your plate." (Aside: why do I always refer to veggies in the masculine? I'll have to analyze that.) Bottom line, these buttery-textured greens are delicious and incredibly good for you.
Ingredients:
For the Breadcrumbs:
2 slices thick bread (gluten-free if you're into it), coarsely crumbled
2 tablespoons olive oil
1/4 teaspoon kosher salt
1/8 teaspoon freshly ground pepper
For the Greens:
4 bunches collard greens, washed and sliced across the width in 1 inch strips, discarding the thick bottom stems (this will seem like a ton when you're buying them, but trust me, they reduce dramatically when they cook, and you will want left-overs!)
1 cup chicken or veggie stock
2 heaping tablespoons coconut oil
1 tablespoon kosher salt (I like my food highly seasoned, use less salt if you are sensitive to it)
Technique:
The Breadcrumbs:  Preheat your oven to 350 degrees.  In a small bowl, stir the breadcrumbs with the olive oil, salt and pepper, and spread on a small baking sheet.  Toast in the oven for about 10 minutes or until golden brown and crunchy.
The Greens:  Place the greens in a in a large dutch oven (you might have to stuff them down).  Pour in the stock and add the salt and coconut oil (don't worry if it's still in a solid form – it will melt fast).  Don't bother stirring yet – too much going on in that pot.  Cover with a heavy lid, and place over medium high heat.  Check every couple of minutes until the liquid starts to boil. Using tongs, carefully stir the greens together until they are all coated with the liquid and have started to reduce in mass.  Replace the lid, and allow the greens to cook at a boil for about 5 minutes.  Reduce the heat to low, and let them simmer an additional 10 minutes (less time if you like your veggies on the firmer side, more time if you like softer.  I used the cooking time for my preference, slightly firm in texture, but a little soft without being squishy or slimy).  The greens will have gone from a bright shamrock to a slightly darker camo green.  Turn off the heat and remove the lid to stop the steaming.  Top each serving with a couple of tablespoons of breadcrumbs and enjoy!
Cheryl's Tips:
This technique works well with a variety of greens: kale, mustard, Swiss chard, etc.  Simply adjust the cooking time to make sure the resulting texture is to your liking. Collards are my favorite, because they aren't bitter, and their rich texture is heavenly.  Make the greens a complete meal by topping a bowl of them with tofu, a fried egg, or a few Mandy's Meatballs.
I love my mini chopper. It's the perfect, easy-to-clean size for puréeing small servings of veggies to stir into an already kid-approved pasta sauce or meatball recipe.  I usually mix about 1/2 cup of the puréed greens into 2 cups of pasta sauce, then toss with 4 cups of cooked pasta.  If you have extra purée, you can freeze it in ice cube trays for future use.  If you're interested in making your own baby food, check out Super Baby Food – full of easy recipes for your little ones, plus a handy chart outlining what foods are safe to try at what ages.
Here's to Greens and Sanity,
Cheryl