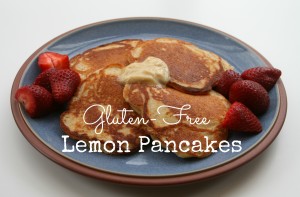 Show me a therapist with a happy, idyllic childhood, and I'll show you a unicorn.  Growing up had some pretty rough spots for me, but a bright one was the annual Kiwanis Pancake Supper (isn't the word "supper" awesome?).  All you could eat stacks of round perfection, with slabs of fried ham on the side.  Balanced nutrition, and a big room full of, at least momentarily, jolly people. So it is with fondness that I present the first of many pancake recipes to come.  Now that I think about it… my 40th birthday is approaching. There will be many, many events commemorating this milestone, and you are witness to the birth of my first solid plan:  Cheryl's 40th Birthday Pancake Supper.  It is ON.  Okay I'm back.  These light, fluffy, lemony pancakes will delight you.  Go get some lemons and make them right now.
Ingredients
For the Honey Butter:
2 tablespoons softened sweet cream butter
1/4 cup honey
For the Pancakes:
4 tablespoons coconut oil, melted (more for cooking the pancakes)
2 eggs
2 teaspoons vanilla extract
1/2 cup kefir or plain yogurt
1 1/2 cups milk or milk alternative (my favorite is almond milk)
zest and juice of two lemons
Technique
For the Honey Butter:
Using a fork or small whisk, mix the honey and butter together until you reach a thick, spreadable consistency.  It will be lumpy at first, but keep working with it until the butter melts into the honey evenly.  If needed, pop the mixture into the fridge for a few minutes to thicken it further before serving it on the pancakes.
For the Pancakes:
Whisk all ingredients together (quickly after putting them in your mixing bowl, as the coconut oil can solidify and make the batter lumpy).  Heat a griddle or skillet over medium heat.  Add a tablespoon of coconut oil, and when it melts and is shimmering, dispense about 1/4 cup of batter per pancake (less for small kid-sized pancakes).  Allow the first side to cook until there are bubbles coming up in the center of the pancakes, and it's easy to slide a spatula under them without a bunch of batter running off the middle (about 2 minutes).  Flip the pancakes, and allow the second side to cook for about 2 minutes.  When both sides are golden, serve them up with fresh berries and a dollop of honey butter.  This recipe feeds two adults (4 pancakes each) and 2 kids (6 silver dollar sized pancakes each).
Cheryl's Tips
If you've made the Lemon Ginger Scones, I hope you treated yourself to a citrus zester.  Pull that bad boy out for these pancakes.
I also love my batter dispenser.  It makes perfectly round pancakes, and really cuts down on mess.  We eat pancakes at least once a week, so this seemingly frivolous tool has been very useful.  If you don't use all the batter, you can cover the dispenser with foil, and use it again in the next few days.  Just add a splash of milk, whisk the batter a little and throw down another batch.
Pamela's Baking & Pancake Mix is a staple in my pantry.  It's expensive, but if you if eat gluten-free, it's worth it.  This magical product keeps our table stocked with waffles, endless varieties of muffins, pizza, biscuits and cinnamon rolls, all without the bloat and constipation.  Now that's yummy.
Here's To Sanity and Supper,
Cheryl