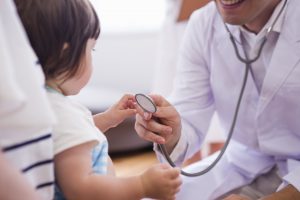 This is the second post in a two-part series created in partnership with Dell Children's Medical Center & Ascension.
Any parent who has navigated a medical emergency with a young child can tell you that their brain alternates between being in a fog and being laser-focused. That was certainly the case for me when my 10-day-old newborn had to be hospitalized for high fever and lethargy. As I wrote in an earlier post, I was instructed by our pediatrician to take my son to Dell Children's Medical Center when he was just a few days old. I was also fighting the flu at the time so my brain was especially foggy. And yet, I found myself on a single-minded mission to advocate for my child and seek out the best professional opinions and interventions I could find.
Thank goodness we ended up at Dell Children's. Despite the hazy state of my postpartum, flu-ridden brain, I immediately sensed that we had placed ourselves in the best possible care available.
One of the reasons I knew we were in the right spot is because Dell Children's has an enormous number of pediatric specialists and specialty programs – the most in Central Texas to be exact. The hospital is staffed with doctors and experts who can be called on at a moment's notice. Instead of being sent from facility to facility, or office to office, the doctors all came to our private hospital room. And they kept coming until my son's condition was diagnosed and treated.
It took a few days for that diagnosis to happen. The reason for my son's deteriorating health was an absolute mystery when we first arrived at Dell Children's. The emergency room staff needed to rule out meningitis so he received a spinal tap. (As you can imagine, the spinal tap was really scary, but I put my faith in the staff to handle my son with the utmost care. And they did.) The doctors did blood work, they checked his urine and they eventually took us in a wheelchair to a separate department for an abdominal ultrasound.
I can still remember sitting in that ultrasound room, next to the kind technician. I can remember the look of concern in her eyes as she studied my son's kidneys, ureters and bladder. Something was terribly wrong, and she knew that my son needed immediate treatment.
The next thing I knew, a top pediatric urologist, Dr. Jose Cortez, Urology Section Chief at Dell Children's, was standing in our hospital room. Remember, my brain was pretty foggy through all of this, and yet Dr. Cortez's face and words are etched forever in my memory. His voice was calm and his demeanor was compassionate. He drew a picture on the white board in our room explaining that our son, Elliott, had a condition called Posterior Urethral Valve (PUV). There was a blockage in his urethra that was causing all of his urine to back up into his kidneys. His ureters, which should have looked like strands of spaghetti, looked like folded up sausage. His kidneys, which should have look like jellybeans, resembled bloated, distended potatoes.
Dr. Cortez calmly explained to us what the plan would be: Elliott would receive a catheter to relieve some pressure that evening and he would go in for surgery the next morning. He also explained that Elliott would fully recover.
There is nothing sweeter than hearing those words from an experienced, top-notch specialist. Your child will recover. It's going to be OK. And it was.
Dr. Cortez is not the only specialist that we saw at Dell Children's. Before we left the hospital that first time, Elliott was checked out by a pediatric cardiologist and a certified lactation consultant.
When our older son, Aidan, had a MRSA staph infection in his lymph gland several months later, we saw an infectious disease expert and a top pediatric ENT who performed surgery on Aidan's neck.
Each time our kids have had a medical emergency (and we've had our share), we've headed straight to Dell Children's. We know that they will be met by a dedicated multidisciplinary team of pediatric specialists and nurses who all have the same mission: helping our kids to feel better. Our boys, who are 11 and 14 now, are in great health, thanks to the expert care and treatment of the doctors and staff they have seen along the way.
When any of my counseling clients share with me that one of their kids have experienced a medical or physical trauma, I immediately direct them to Dell Children's. The medical center is the only Pediatric Level I Trauma Center in Central Texas. They provide the highest level of care to children who have been victims of trauma – the kind of care that is crucial for the full physical and emotional recovery of a child.
Eleven years after my son's first hospitalization, Dr. Cortez is still his urologist. His office is located across the street from Dell Children's, within walking distance from the hospital. We visit Dr. Cortez every few years for a follow-up ultrasound and check up. We usually make it a family outing. We laugh with Dr. Cortez, we stop by and say 'hi' to our favorite ball machine in the Dell Children's lobby and we go out to lunch as a family. We celebrate our son's good health and the expert care he received when he was only a few days old.
When my son had a check up with Dr. Cortez six months ago, we nervously asked him if he was going to retire anytime soon. "No way," he reassured us. "I have kids in college, no retirement for me yet!"
Thank goodness! We felt immediately relieved. Knowing that your child has a top notch medical expert in their corner makes all the difference, and that's why we will choose Dell Children's every time. ♥️