I know the movie "Frozen" has created a somewhat disturbing obsession, but bear with me.  I resisted it for a long time, but when a blue-eyed five-year-old is begging you….  Luckily, she was on my lap and couldn't see my intense emotional reactions.  Contorted face, holding back big sobs.  Seeing a female character, a cartoon at that, struggling to allow herself to feel anything other than fear or shame was so refreshingly painful.  "Conceal, don't feel."  Oh, Elsa.  I get you.  There's been progress, but emotions still seem divided along gender lines.  Most men feel they are only allowed to express anger, holding all else inside.  Women are often viewed as emotional, irrational and in need of containment, and if they express anger, it's a problem.
My parents were raised in the post-depression era, in very sparse conditions.  Their families were too busy surviving to discuss or express feelings.  I grew up watching my mother choke back hard-earned tears, steeling her jaw and optimistic resolve against any emotions that seemed messy or useless.  Add to that thrice weekly trips to our church, where flawless, "I'm Okay, You're Okay" appearances were key.  I internalized this message: expressing or even feeling emotion is not allowed, and it will hurt those around you.  This internalized message has definitely NOT served me well.
My therapist explained it like this: when painful or exciting things happen, your humanity naturally burns with anger or or sadness or joy.  Feelings well up like a wave, and in emotionally healthy people, that wave rolls through and resolves.  Naturally.  In people who repress, the wave crashes against a wall of shame, which tells them it's not okay to feel or express the feelings.  The feeling wave churns there in a circle against the shame wall.  The wave can't complete, so it just stays, and stays, and stays.  The water stagnates, turns into depression and/or anxiety, and can lead to numbing addictions and NOT being down with O.P.E. (Other Peoples' Emotion).  The worst part is that people who repress often have no idea they're doing it.
Pregnancy and birth shattered my repression tendencies.  I was six months pregnant, and about to celebrate my birthday at a favorite coffee shop.  My sweet friend Val was driving us, and she accidentally closed the car door on my fingers.  It hurt, but not THAT bad.  The little bit of physical pain made something break inside me, releasing a ton of pent up feeling.  I could NOT stop crying.  Beautifully empathic Val started crying too, and it took everything I had to pull it together in time for my little party.  Arriving puffy eyed and mascara streaked, I was on the verge of tears the entire day.
"Fear?  Grief?  Pain?  Chaos?  With THIS awesome dress and precision haircut?  I think not…"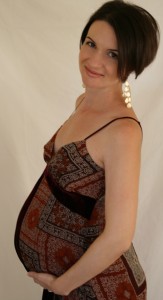 Then came birth.  When my first contraction hit, it felt like this: "WWWWHHHHAAAAMMMMMMM!!!!!" My repression brain kicked into gear and said, "Oh dear.  That smarts just a bit.  Well, this must just be how these things go.  Nothing to fret about." This denial was the frame from which I called my midwife.  In a breezy tone, I announced that I'd begun labor.  She told me I'd be in this stage for a long time, and suggested that I try to get some sleep.  2 hours and 45 minutes later, my daughter completed her precipitous swan dive through my body (as I screamed, literally running in circles from the pain like the Tasmanian Devil).  She landed safely in my midwife's hands, who had arrived just 4 minutes prior.  This event force-opened my eyes wide to the impact denial and repression can have on parenting.  My unhealthy ability to repress my feelings, intuition and physical sensations could have put both me and my baby in danger.
I have worked hard to overcome repression.  I tell myself it's okay to feel my feelings and make space for them, even when they can't come.  I fight my hard-wired reflex to say to others, "Stop feeling so much.  Because it makes me so uncomfortable. Because I am so uncomfortable with my own feelings."
I sit in sessions, awe-struck by clients who let go with me, crying or yelling or seething with jealousy.  I feel intense gratitude for the trust and vulnerability they give me.   My son unleashes when he's angry or sad or hurt, howling like an animal.  I scoop him up and hold him close.  My daughter hides when she's upset.  I respect her space, but go just to the edge of it to remind her she's not alone.  I squeeze her tight when she's ready to reconnect.  I want my clients to feel safe with me.  I want my kids to feel safe with me.  I want my friends to feel safe with me.  I want to feel safe.
To feel is to be real.  See what happens.
Cheryl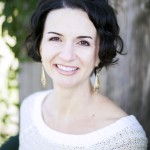 Featured photo copyright: bowie15 / 123RF Stock Photo