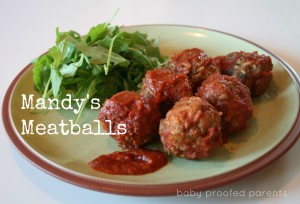 These delicious meatballs are adapted from a recipe that came from one of the coolest mamas we know (you'll be hearing more from her down the road).  My favorite thing about this dish is that every savory bite is a perfectly nutritionally balanced… and as you're gathering, we're all about the balance.  Also, they freeze really well, so double up and save half for a night when you'd rather play than mess up the kitchen.
Ingredients:
1 pound ground grass-fed beef or bison
1/2 pound pork, chicken or turkey Italian sausage (spicy or sweet)
1 cup steamed white or brown rice
1/2 c finely chopped onion
1/2 c finely grated zucchini
1 teaspoon salt
1/2 teaspoon black pepper
1 teaspoon Spike Seasoning (optional)
1 16 ounce can tomato sauce
Instructions:
Preheat oven to 350 degrees.  Mix all ingredients except for the tomato sauce.  Form into 1 inch balls, and place in a lightly greased casserole dish.  Drizzle the tomato sauce over the meatballs, and bake uncovered for 1 hour.  Stand in your kitchen, and breathe deep – they smell amazing and taste even bettah.
Cheryl's Tips:
What's Spike Seasoning?  The bomb.  A yummy, natural seasoning alternative to typical blends that use msg and other junk that's hard to pronounce.  Look for it at your local health food store, or at http://spike-it-up.com/
Another kitchen tip:  Keep a box of surgical gloves handy (tee hee) for forming meatballs, deboning chicken, etc.  Keeps gunk out from under your gorgeous fingernails and makes clean-up easy.
Here's to strength, sanity and really yummy meals.
Cheryl