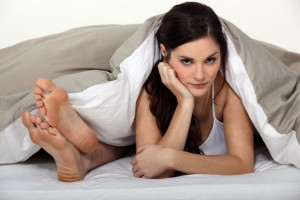 You'll hear us say it over and over – being a new parent can be all-encompasing.  From personal hygiene to personal identity, a new baby rules most aspects of brand new moms' and dads' lives.  This crash course in nurturing helps us quickly hone the skills necessary to keep our helpless little ones alive and healthy.  It's normal to feel that nurturing spilling over to our partners throughout our journey of co-parenting: cutting food into bite-sized chunks for our toddler accidentally results in cutting up food for our obviously capable spouse, "Goo-goo gah-gah what a big boy!" could technically be said to either a baby or a man, and don't get me started on diapers.  In some cases, this excess nurturing is helpful, making us more attentive, affectionate and patient with each other.  But in other cases, it can completely deflate the sexy factor.  Here are three ways to keep our parent/partner roles distinct, keeping attraction heated up:
1.  Create time and space.  Numbers 2 and 3 are contingent upon this.  If you are struggling with postpartum issues, are sleep deprived, or your baby is going through an exceptionally fussy or difficult stage, survival will be the priority.  Don't pressure yourself to be in the mood, but DO work on hiring childcare or enlisting support from family and friends.  You need a break from your little one to reconnect with your partner, even if it's just a very short outing together and the only physical contact is a short make out session in the car.
2.  Mentally/Emotionally separate your role as a parent from your role as a partner.  Think about what feels good and when.  Yes, being nurtured and treated with sweetness is nice, but when it comes to sex, we want to be seduced.  Not with baby talk, but with direct, heated, "I want you, NOW," messages.  If you're in the mood and about to approach your partner, make that mental shift by assuring yourself the baby's needs are being met, and for the moment, compartmentalizing your parenting identity, letting your adult, sexual self take the wheel.  Use your first names or pre-baby pet names instead of referring to each other as "Mommy" or "Daddy" – the way you might habitually when talking with your littles.
3.  Physically separate your role as a parent from your role as a partner.  When possible, schedule a sitter and get out of the house for a nice, romantic dinner.  If it's a night in, take extra time to shower, change out of your sweat pants and into something inviting.  Partners – if you notice Mom is a little haggard and covered in spit up, offer to run a hot bath and pour a glass of wine for her, giving her time and incentive to transition from Mommy Town.  Use foreplay techniques like massage, long hugs, listening and folding/putting away laundry before initiating sex.
Here's to Sanity and Inviting Pants,
Cheryl