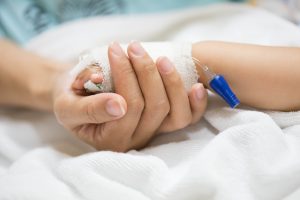 This is the first post in a two-part series created in partnership with Dell Children's Medical Center & Ascension.
I remember the phone call like it was yesterday. I was lying on the sofa, nestled in a cozy blanket with my 10-day-old newborn. It was a rainy evening in January and I had just dialed the on-call number at my pediatrician's office. My newborn had a significant fever, just as I did, and my husband and I needed advice on what steps to take.
"You need to take Elliott to the ER. I recommend you go to Dell Children's Medical Center," the doctor on the other end of the phone said firmly.
My heart sank. Really? I thought. I felt like I had a really bad cold, and that Elliott, my new baby boy, was simply fighting the same bug that I was. The thought of taking him to an emergency room was terrifying. However, I had heard positive things about Dell Children's so I took a deep breath and said, "OK, we'll head there immediately."
Looking back, I now know that I had a very sick baby on my lap and that traveling to Dell Children's Medical Center was the best decision I could have made.
After I hung up the phone with the doctor, I threw some items in a bag and jumped in the car with my newborn, leaving my husband at home to care for our preschooler. I was feeling pretty wretched myself and would have loved to have just crawled under the covers. Nevertheless, I was the source of my newborn's food and comfort, so I needed to be the one to accompany him to the hospital.
After a compassionate and speedy ER visit, and a few days of testing and observation, Elliott was diagnosed with Posterior Urethral Valve (PUV), a congenital condition that was causing serious (and very dangerous) damage to his kidneys and ureters. The little guy needed to have emergency surgery to repair his condition and several more days of recovery and observation. We ended up staying at Dell Children's a total of ten days that first time.
Anyone who has stayed with a young baby or a young child in a hospital for an extended period of time will tell you that it is hard… really hard. My husband and I look back on those ten days as being some of the toughest of our lives. Especially since we came precariously close to losing our little one. And yet, there was an incredible warmth and nurturing energy that we felt during our entire experience at Dell Children's. The staff and personnel did everything possible to make us feel comfortable and supported. So much so that when it was time to check out of the hospital, I felt a surprising amount of sadness. Of course I was happy that my son was strong enough to leave the hospital, but it was a bit hard to leave the tender loving care that my entire family received for those two very intense weeks.
I know that probably sounds odd. Sad to leave a hospital? That was honestly how I felt. When I think back to why the experience at Dell Children's was so positive in the midst of such a negative, scary life event, I believe it has to do with their focus on family-centered care. The staff and medical personnel are not only focused on caring for their patients, they are focused on tending to the entire family and making their experience as gentle and compassionate as possible.
Dell Children's Medical Center believes that caring for the family is just as important as caring for their young patients. Each floor of the hospital is designed to make family members as comfortable possible. This means that each unit has cozy and colorful spaces in which families can congregate and make themselves at home. The staff understands that the presence of parents, siblings and extended family enhances the healing process for infants and children. Instead of making family members set up camp in cold, separate waiting rooms, the staff welcomes them with open arms onto each floor.
Even the patient rooms are designed to accommodate parents and family members. While my infant son was recovering in his hospital bed, I rested on a surprisingly comfortable sofa bed. The colors in the room were cheery and optimistic, not the dismal, neutral shades that I was accustomed to encountering in hospital rooms. And the food? Not your standard hospital fare. It was fresh and surprisingly delicious. Because I was a nursing mother, I was able to choose from their extensive room service menu for each meal and let me tell you, this mama was thrilled to let someone else cook for me for a few weeks!
Dell Children's understands that just because a baby or a young child is sick doesn't mean that they cease being children. The hospital has playrooms on each floor with toys and games for children of all ages, from infants to teens. It is not unusual for volunteers or staff members to be spotted wheeling around carts full of books or small toys designed to cheer their littlest patients and their siblings. The grounds are well-designed and full of gardens and interactive play areas.
I feel like Dell Children's truly wants their patients to have positive memories of staying in their facility. It is not unusual to encounter super heroes, magicians or musicians wandering the halls. Frequent theme days and ice creams socials give every one a reason to smile. When my husband would bring our preschooler to visit the hospital, he didn't want to leave! The staff worked hard to make him feel just as cared for as his little brother, which meant the world to us.
The interior of Dell Children's is beautifully designed with large windows and cheerful artwork by local talent. My family's favorite, favorite part of the hospital is a large kinetic ball machine. Part art installation/part interactive entertainment, my boys were mesmerized by the dropping and popping and rolling of the balls behind the wall-sized, glass-enclosed contraption.
Dell Children's recognizes that when a family has a sick child, it impacts the emotional and social well-being of all of the family members. For this reason, the hospital has a staff of Child Life Specialists who have training in child development and emotional health. The mission of these specialists is to ease the stress and anxiety of patients and their families. Being a mental health professional, I was especially appreciative of the social workers and counselors that the hospital has on staff. Dell Children's provides therapy and support for siblings, parents and patients. Everything from age-appropriate medical education to relaxation techniques is included.
I remember joking with one of the nurses that I really could have used a hotel-style Do-Not-Disturb sign while staying at the hospital. There was a constant stream of people checking in on me, my little patient, and the rest of my family. Looking back, all of that support and concern played a crucial role in the healing process for me and my son. Sure, there were a lot of people coming through our room, but they were coming with support, resources and love.
Despite feeling a tinge of sadness about leaving all of the incredible support at Dell Children's, my family and I were happy to be settled back into our house after our hospital stay. Whenever we would return for the frequent follow-ups with our son's urologist and other specialists, we would be sure to stop by our favorite ball machine in the lobby and give the wheels a whirl. My boys grew up feeling like Dell Children's Medical Center was a place of cheer and comfort, not a place of illness and sadness. For this reason, I feel very thankful for the positive experiences they gave my family during a very tough stretch.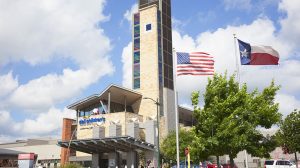 In my next post, I will talk about a very special doctor, my son's urologist, and the other professionals who made up his care team at Dell Children's Medical Center.