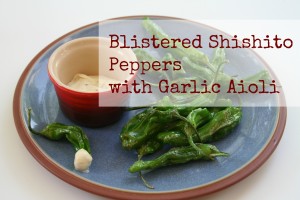 Before we begin, try saying their perfect name out loud: shi-SHEE-toes.  Isn't that lovely?  A farmer at my favorite market recommended these perfect peppers, and I've been hooked ever since.  I've noticed several posh restaurants have added shishitos to their appetizer menus with a steep price tag.  Preparing them yourself is cheaper and way impressive as an appetizer or a side veggie (divide the aioli into tiny dipping bowls and serve a few peppers on each plate).  Risk Disclaimer:  most shishitos are mild with a tiny hint of sweet, but occasionally you'll come across one that packs a little heat.  If your child is sensitive to spicy foods, sample each pepper before serving it to them, unless they're like my pepper-belly son.  Given food with heat, he'll accusatorially say, "Mom! Spicy!" while continuing to shovel in huge mouthfuls.  We have to monitor our margarita intake at Mexican restaurants so we can keep a close eye on him; once he slipped a drinking straw into the salsa bowl and guzzled it.  I think it's genetic, as I am spicy food girl and have blown out my taste buds' heat detection abilities.  If the menu has a million asterisks denoting the spiciness of a dish,  "Warning!  You probably shouldn't order this!" then that's what I'll be having.  But don't fear the shishito, and get ready to fall in love with the aioli.
Ingredients:
For the Aioli:
1/2 cup mayonnaise
1 clove garlic, finely minced
1/2 teaspoon fresh lemon juice
1/4 teaspoon Spike seasoning (optional, but delicious flavor without a bunch of gunk you can't pronounce)
(If you don't use Spike, add 1/8 teaspoon each of kosher salt and cayenne pepper)
1/2 teaspoon Dijon mustard
For the Peppers:
4 cups shishito peppers, washed with stems left on
2 tablespoons macadamia nut, peanut or grape seed oil
1 teaspoon coarse kosher salt
Technique:
For the Aioli:
Combine all the ingredients with a small whisk, and place in a small bowl for dipping.  I love it when things are this easy.
For the Peppers:
Heat a large skillet over medium-high, then add the oil.  When it's shimmering, carefully add the shishitos, which will go crazy at first, making the hot oil pop.  Once they calm down, begin to stir-fry them with a wooden spoon, until you can see the skin start to whiten and then lightly brown in spots, about 7-10 minutes.  Add a tablespoon of water and turn the heat down to medium (this will steam and soften them to the perfect texture).  Continue stir-frying until the water completely evaporates, and the shishitos are slightly more pliable (about 3-5 minutes more).  Add the salt, stir a few more times to coat the peppers, then serve them on a platter next to your cute little bowl of aioli.  Allow to cool for a few minutes and then dive in, dipping each pepper and challenging yourself to eat them all the way to the stem in one perfect bite.
Cheryl's Tips:
I recommend using a garlic press.  They're quick, easy to clean, and make the flavor of the garlic even more potent.  When you're using raw garlic in a dip or salsa, cut the cloves in half lengh-wise, and check for any little green shoots in the center (which can make your dishes taste bitter) before chopping or putting them through your press.  Use a small knife to dig out the shoots and compost them, or plant them to grow more!  I always use fresh garlic instead of the pre-minced jarred kind – I can't imagine mass-producers carefully removing little green shoots.
The aioli.  Yum.  If you haven't already eaten the leftovers with a spoon, it will keep refrigerated for up to two weeks.  It's divine on sandwiches, eggs, roasted chicken, as a dip for raw veggies, or my favorite use:  atop pan-seared salmon.  I often double the recipe, keeping it on hand as a condiment.
Shishito it up, ya'll.
Here's to Sanity and Pepper-Bellies,
Cheryl