Kirsten's awesome anxiety tip made a visual pop into my head: a big deck of gross cards, representing the multiple anxieties I had/have about motherhood.  It took me a long time to connect with any sort of desire to have children, and when that drive finally became strong enough to push me through the intense fears that had repressed it, I struggled with infertility for over a year before getting pregnant.  I had a little time to stack quite a few things to worry about.  One of the biggest was in the form of a loaded question:  Will I Suck as a Mom?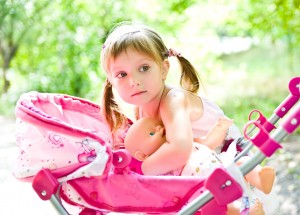 Most women I'm close with are naturally maternal, and always have been.  Genetic's tendency to skip certain people when handing out qualities, combined with the specifics of my childhood rendered me not naturally maternal.  Growing up, my friends sweetly swaddled, fed and held their baby dolls, while mine dressed provocatively, drove around in my shoes (excellent barbie cars on a budget) and reenacted screaming matches between Erica and Palmer from "All My Children."  While I was still light years from wanting a baby, 7 of my close friends got pregnant within a year of each other.  I watched each of their journeys, and the beautiful ways they stayed anchored to their natural maternal instincts through all of the struggles they experienced.  I scanned myself for such an anchor, and felt lost.
It gets even more messed up.  Anxiety has a way of dipping into your past and finding memories/connections to build its strength.  It's as if the anxiety tries to build a "factual" case to support and inflate itself.  In third grade science, we had a classroom pet hamster who was pregnant.  Our teacher suggested we have a prize drawing for which lucky students would get to take home the babies when they were old enough to become pets.  This beautiful lesson on the magic of reproductivity went very wrong, when we arrived at school one morning greeted with the news that the night before, the mother hamster had given birth, and had then eaten her babies.  "This is just what happens in the animal kingdom sometimes," my distraught teacher explained to our open-mouthed, shocked faces.
To be clear – I wasn't afraid I would eat my babies.  But this harrowing memory linked up and added some emotional intensity to my very real fears about motherhood: that I would repeat painful patterns from my childhood with my own children, that I would not be naturally maternally strong enough to get through all of the transitions of parenting, that I wouldn't be able to bond properly, that I just wouldn't love them enough.
It took time for everything to warm up in me.  I had to have help.  I had to be honest with myself and with people close to me.  I had to act "as if" I was naturally maternal, until I became naturally maternal.  Holy crap, I love these kids.  So much that it's sometimes direct sunlight painful to look at them.  I have fear to thank for that.
Ahhhh, anxiety.  Our constant, faceted companion.  I have learned to appreciate one thing about it.  It forces awareness.  We all have blind spots, which make us human, and sometimes unexpectedly surface and face-plant trip us.  Anxiety has a way of pulling things out of blindness, flooding them with light, sound and imagery.  In this way, it preempts and dramatically reduces the risk that you'll actually make the mistakes you fear.  The trick is to then turn down the volume on your fears so you can focus on what's in front of you, and avoid overcorrecting.  Although with love, maybe overcorrecting is kind of okay.
Here's to Sanity and Hamsters,
Cheryl