Our brains can feel quite cluttered.  Purging the things that are no longer useful opens space for new ideas, approaches and behaviors.  Consider healthy eating plans.  Many of them start by omitting things like sugar, processed foods and caffeine (which makes me so, so sad). After detoxing, you start to feel better, have more energy, and can build by adding more  greens, lean protein and whole foods.
The same principle works in relationships.  I've worked with a lot of clients on breaking old patterns and being more intentional when dating. When I ask, "What qualities are you looking for?" many people draw a complete blank.  So, I redirect with, "What do you want to avoid?"  This primes the pump.  "No commitment issues.  No drug use.  No habit of softly whistling show tunes while I'm talking to him."  (That last one was personal.)  Sometimes getting to what we do want requires strong clarity about what we don't want, and moving it out of our way.
Therapists are always preaching about improving communication with our partners.  We all want to be more in sync, but managing conflict and getting our meaning across can feel impossible, especially amidst the added craziness of raising kids.  Before tackling the arts of "I" Statements and Active Listening, open up some space by purging these three communication habits.
1. Transactional Statements.  Instead of asking for what you want with clear language, transactional statements or questions are attempts to Jedi your partner into doing your bidding.  You throw out a complaint or vague query, then wait for him to connect the dots, intuit your want and leap into action.  This  habit stems from self-esteem issues.  Deep down, we question our right to even have preferences and needs, let alone express them.  This drives our use of elaborate, sneaky ways for getting our needs met, which usually backfire.
Instead of this:  "It's soooo hot in here.  Aren't you hot?!"
Try this:  "I'm burning up, and have my hands full with the baby.  Will you please lower the temperature?"
2.  Globalizing.  Any negative feedback you give your partner starting with "you always," or "you never," is destined to bounce off a wall of defensiveness and come back to smack you in the face.  Making generalizations about another person is a terrible motivator for change.  This habit stems from high stress levels, which can distort your perception of the frequency/lack of the behavior.  Globalizing causes her to feel invalidated, vilified and guarded.
Instead of this:  "You never appreciate what I do for you.  You always focus on what I've done wrong."
Try this:  "When you forget to say 'thank you,' I feel unappreciated.  I love it when you compliment and tell me you value what I do."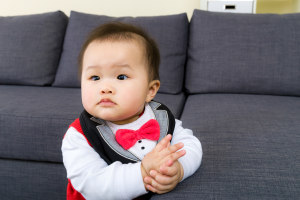 3.  Baby Talk.  Using goo-goo/gah-gah or feigned foreign accents is another strategy for fishing to get your needs met while keeping your true desires covert.  Because, if you're denied, hey, it wasn't really you who asked anyway, it was that faux-British, adult-sized infant.  No harm no foul!  This habit stems from a fear of rejection, and is most commonly used when initiating sex, which can feel like one of the riskiest wants to communicate.
Instead of this:  "Will you pwease wub my backy-back?"
Try this:  "I want you to administer your technique.  Right.  Now."  That's more of a command.  But maybe that's just fine.
Try this again: "Will you please give me one of your amazing back rubs?"
Do these tips seem impossible to implement?  Are you and your partner caught in a Transactionally Globalized Baby-Talking Labyrinth from which you can see no escape?  This could mean there's some deeper emotional work to do.  Reach out for help if you need to – the payoff for stronger, clearer communication is so worth it.
Here's to Sanity and Brits,
Cheryl