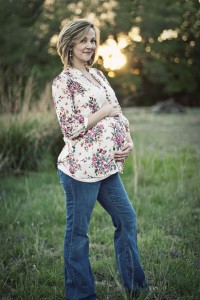 Meet Wendy Howard.  Wendy is the mother of two, a wife, and a Labor and Delivery Nurse with a certification in Inpatient Obstetrical Nursing at UCMB Hospital in Austin, Texas.  She also has experience in Emergency Medicine, Critical Care, is a Breastfeeding Resource Nurse, and aspires to become a Certified Nurse Midwife.  This is where Wendy's unique perspective comes in – she had her first baby in a hospital setting, and her second at home with a midwife.  She can truly attest, from personal experience, to the benefits and drawbacks of both birth settings. Her passion is Women's Health, and all things related to pregnancy, labor, delivery and recovery.  She strives to give each of her patients a personalized birth experience, fulfilling their hopes whenever possible.  One of my favorite things about Wendy is how candid she is – she has a straightforward, honest, yet gentle way of speaking about what women can REALLY anticipate experiencing both during birth and post-nataly.
BPP:  What are the biggest joys and challenges of your work as a nurse?
WH:  The joys are helping a woman achieve the birth she wants.  That's what I strive for:  seeing her empowered, whether that's completely natural, drug-free with spontaneous labor, or that she tries for a vaginal delivery and winds up having a c-section.  When the baby is okay and in her arms – then the outcome is positive no matter what the plan was.  It's a challenge when the plan has to change for some reason (the baby is breech or the mom is post-date or diabetic, and interventions haven't worked).  It's also challenging when I'm advocating for the mom, but my voice isn't heard anymore, because it's the doctor's call ultimately.
BPP:  What are the top three things you wish women were educated on/prepared for when giving birth?
WH:
More than likely, their body knows what to do, and the majority of the time, they could have a vaginal delivery without intervention.
They have the right to refuse any service that they feel might be unnecessary for themselves or the baby.
That they should be as prepared as possible for pain, and have some emotional and mental tools for helping to manage it.
BPP:  What are the top three things you wish women were educated on/prepared for post-nataly?
WH:
That a major lack of sleep will be present, and there are ways to manage that with support.
That even though an instinct is there for both mom and baby, breastfeeding education is a must because of its many facets (not all babies will latch well, all nipples aren't the same, etc).
Your body will never be the same, in both positive and negative ways.
BPP:  What are the top three myths that you find yourself dispelling with new parents?
WH:
That breastfeeding will be a breeze, and is a form of contraception:  not always, and no it's not!
That you and your parenting partner will naturally fall into a cohesive team:  you have to intentionally communicate and possibly fight to become a team.
That you won't make mistakes in every aspect of parenting:  we're human; trial, error and big mistakes are inherent to parenting, just like they are to every new role.
BPP:  You had both a home birth and a hospital birth.  Will you compare the two?
WH:  It's like apples and oranges.  My support system (my husband and my mom) was the same for both.  My psychological mind frame was different: in the hospital birth, I was unsure of so much going on around me.  I had anxiety about the unknown, and had a constant feeling that an intervention like a c-section was hanging over my head.  With the home birth, there was more comfort and peace, and the constant was, "I'm at home, in a safe space, it's familiar and I can move around with no restrictions." I had my second baby at home, and I knew I could get through the birth, which added peace of mind.
BPP:  What are ways can women advocate for themselves in the hospital setting?
WH:  Educate yourself before you go to the hospital.  Figure out the type of birth you want, with details like whether or not you want pain medication and communicate that up front.  Ask questions.  Question everything, and if you don't feel right about a decision the doctor or nurse wants to make, state your opinion and ask them to justify and explain theirs.  Ideally, have a labor support person (like a doula or a good friend with an obstetric nursing background) to advocate for you.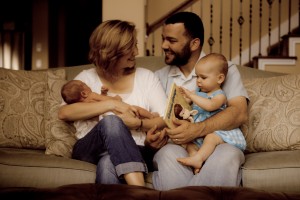 BPP: What tips do you have for dads/parenting partners on how best to support the laboring mom?
WH:  Be present, physically and with emotional support.  Try to figure out with the mom what is best for her specific needs, which could be physically touching her, playing music for her, getting drinks for her,  or just being there.
BPP:  What advice do you have for family/friends who want to attend the birth/visit the new mom and baby in the hospital?
WH:  Respect the sanctity and possible need for space of the new family, and know that needs/preferences look so different for people.  When I was in the hospital after my first, I wanted no visitors until we were postpartum or ideally, at home.  Don't take it personally if the new parents want time and space with their new baby.
BPP:  If you had to give one sanity-saving tip to new parents, what would it be?
WH:  Take care of yourself, whether that's going to get a massage, exercising, getting a pedicure, going on a date with your partner – take time away to rejuvenate, so you can give your entire self to your baby.
Thank you, Wendy, for devoting yourself to advocacy for new moms, and sharing your beautifully faceted wisdom with us.  Any new mom would be lucky to have you on her team. 
Cheryl & Kirsten ♥