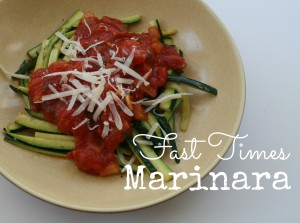 No jar can beat you.  You are invincible.  Your marinara will make people laugh and cry and wonder who they really are.  I've had 2 cups of coffee.  This easy, vibrant sauce is a staple in my kitchen, and is worth the extra work to prepare from scratch.  Why?  Most pre-made pasta sauces have added sugar.  Get used to making your own, go back for a taste of pre-made, and you'll detect the sweetness immediately.  I'd rather get my sugar from a cold IPA and a gigantic brownie topped with 85% dark chocolate ganache and a cherry-port reduction, wouldn't you?  I've showcased the marinara's beauty topped with grated parmesan over thinly sliced, sautéed zucchini.  It's also perfect with pasta, spaghetti squash, or as a simmering sauce for halibut.  If you prefer a meaty sauce, add browned ground bison or Italian sausage.  I double the batch, freezing it up for future deliciousness.
Ingredients:
2 tablespoons olive oil
1 medium onion, chopped
2 cloves fresh garlic, halved length-wise and thinly sliced
2 28 ounce cans San Marzano Italian whole plum tomatoes
1/2 cup loosely packed, chopped fresh flat Italian parsley or basil leaves
2 teaspoons kosher salt
Technique:
Heat a large skillet over medium heat.  Add the olive oil, and when it's shimmering, add the onion.  Breathe in that divine smell, and you'll be shimmering too.  Sauté until the onion softens and is transparent.  Add the garlic and sauté about 3-5 minutes more.
(Want softer hands?  Before this next step, rub those hard-working beauties with some coconut oil and slip on a pair of surgical gloves.  To protect your skin, keep a box of gloves handy for preparing meat, peppers, or in this case, acidic foods.)
Pour in the juice from the tomato cans, then use your fingers to carefully break the tomatoes into pieces and drop them into the skillet.  Add the salt, and simmer the sauce for about 20 minutes, stirring occasionally until it's thickened a bit.  Add the parsley or basil, and simmer about 5 minutes more.  Know what?  It's ready.  Just like that.
Cheryl's Tips:
I don't have extra tips for this recipe, because it's that simple and elegant.  I'll use this space to tell you you're doing an amazing job as a person.  If you're reading this recipe, you at least have an interest in cooking, which is creative, which means you're reaching for something beyond the ordinary, which makes me like you.
Here's To Sanity and 85% Dark Chocolate,
Cheryl