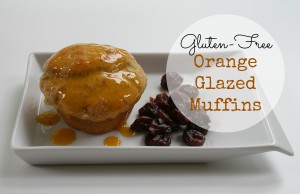 There was no "Home Ec" in my high school.  There was, however, "Food Science and Nutrition," or "FSN" to those in the biz.  We were sooo progressive.  In FSN, I learned all about the complex sensitivity of muffin batter.  If you over-mix it, the muffins can come out full of funky air tunnels.  While some people love to play "6 Degrees of Separation," I prefer "Turn Everything Into a Mental & Emotional Health Promotional Opportunity."  Let's liken over-mixing the muffin batter to overanalyzing/doubting oneself when on the verge of making a major life change, such as embarking on a new career path.  If you question yourself too much, you can stay stuck, infusing your life with tunnels of stagnant air instead of consistently fluffy, magical deliciousness.  Bam!!
Make these easy, orange-tastic muffins with some scrambled eggs tomorrow morning, and watch your day unfold perfectly from there.
Ingredients:
For the Cherries:
1 cup dried, sweetened sour cherries
1/2 cup water
For the Glaze:
2 tablespoons frozen organic orange juice concentrate
Up to 1 cup powdered sugar, sifted
For the Muffins:
1 1/4 cups Pamela's Pancake and Baking Mix
1 egg
1/4 cup plain yogurt or kefir
1/4 cup milk or milk alternative
1/2 cup honey or agave nectar
zest of one orange (another opportunity to use your awesome zester – hooray!)
1 teaspoon pure vanilla extract
1/4 cup finely grated zucchini (optional)
Technique
For the Cherries:
In a small saucepan, combine the cherries and water.  Bring to a boil over medium-high heat, stirring occasionally.  Reduce the heat to low and simmer until the cherries have softened and absorbed all but about 1/4th of the water.  Turn off the heat and allow to cool slightly. While cooling, the cherries will absorb a little more water, resulting in a yummy compote to spread over the muffins.
For the Glaze:
Start by whisking the frozen concentrate with 3 tablespoons of the powdered sugar.  The concentrate will melt quickly, and when the mixture is smooth, gradually whisk in the rest of the sugar until it's slightly thicker.  These measurements make my favorite glaze consistency – it coats the muffins and drizzles onto the plate for dipping every bite.
For the Muffins:
Preheat your oven to 350 degrees.  Combine all the ingredients with a wooden spoon in a medium mixing bowl.  Gently stir until everything is incorporated and no streaks of baking mix or egg show up in the batter, but remember to avoid over-mixing it.  Scoop the batter into a well-greased 6-cup muffin pan, filling each cup to slightly below level.  Bake for 20 minutes or until very lightly browned.  Cool the muffins on a baking rack for about 5 minutes before carefully removing them from the pan, as gluten-free goodies have a tendency to stick.  Drizzle about a tablespoon of glaze over each warm muffin, serve with a small scoop of your lovely cherries, and enjoy!
Cheryl's Tips:
If you've been following our recipes, thank you, and you might wonder why zucchini is in almost everything?  First, it grows like crazy here in Austin, so I try to find creative uses for it.  Second, it is incredibly easy to hide in baked goods and pasta sauces, adds a tiny bit of veggie goodness, and helps me feel less anxious about my children's ongoing refusal to eat anything green.
I tried making the glaze with the juice of the orange, which seemed more practical, and in theory, tastier.  It fell flat.  The concentrate has such a powerful orange flavor, which is necessary to adequately compliment the milder flavor of the muffin itself.
Those cherries.  Mmmm.  Another decadent use: over frozen vanilla yogurt or a warm brownie.  The same stewing technique works well with other dried fruit, like apricots or plums.  I'll save the Mental & Emotional Health/Stewing Promo for another time.
Here's To Sanity and FSN,
Cheryl