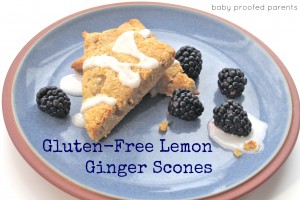 These sweet-tart-delightful scones are a mash-up between two of my favorite recipes: Elana Amsterdam's basic scones (see her amazing gluten-free/paleo website:  http://www.elanaspantry.com), and my sweet friend Sara's decadent lemon ginger scones.  They are perfectly enjoyed for breakfast or a mid-day snack, and the almond flour adds some healthy protein to the mix.

Ingredients:
The Scones:
2 cups almond flour (sometimes called almond meal)
3/4 teaspoon baking soda
1/2 teaspoon ground ginger powder
1 tablespoon minced fresh ginger
1/4 cup chopped crystalized or candied ginger
zest of 2 lemons
1 egg
3 tablespoons agave nectar
The Glaze (optional, but mmmm):
1/2 cup fresh lemon juice
1 cup confectioners sugar
Technique:
The Scones:  Preheat your oven to 350 degrees.  Combine all ingredients except for the the egg and agave nectar in a medium mixing bowl.  In a separate small bowl, whisk the egg and agave nectar together, then mix into the dough, which will be chunky/lumpy and feel like sticky, heavy, gritty play-dough (I know, doesn't  sound awesome yet).  No need to kneed, just mess with it with your hands or a non-stick spoon until it looks pretty consistent.  On a cookie sheet lined with parchment paper, use your hands to form the dough into a flat circle, about an inch thick.  Use a pizza cutter to slice the dough into 6-8 triangles, and gently move the triangles apart so they're not touching.  Bake for 10 minutes, until the scones are light brown around the edges.  While they're baking…
The Glaze: Whisk the lemon juice and confectioners sugar to form a glaze.  If you like thin glaze, you can add more juice, and more sugar will thicken it up like icing.  I used the measurements for my personal favorite consistency, which melts over the warm scones but doesn't drip everywhere.
Let the baked scones cool for about 5 minutes, put them on a plate and drizzle the glaze over them.  Eat them right now!
Cheryl's Tips:
Scones are fun to make, because they are very difficult to mess up (a major plus in my book, as baking is not my forte).  Don't worry if they're not pretty, because if they're warm, they'll be delicious.  Give me taste over aesthetic any day.
These are not only gluten-free, but paleo "friendly" – friendlier if you omit the ginger candy and glaze.  Stay tuned for more about the health advantages of eating gluten-free/paleo foods.  Almond flour is essentially very finely ground almonds – the stage immediately preceding almond butter. You can find it and all of the other ingredients for the scones at your local Whole Foods.
I love my citrus grater. Hold the grater firmly in your non-dominant hand, and your lemon/lime/orange in the other, then lightly rub all sides of the fruit against the grater over a bowl.  It does all the work for you, perfectly zesting the flavorful part of the rind and leaving the white part behind.  Be careful and don't use too much pressure, as you don't want to slip and get bodily zest in your food.
Here's to strength, sanity and family-proofed meals.
Cheryl