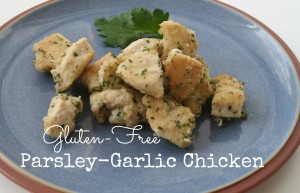 This is a gluten-free version of a classic recipe Jacques Pépin prepared on one of his PBS shows.  Jacques is awesome.  My favorite series is "Cooking With Claudine" (his daughter); for the food, but even more for their fascinating relationship dynamic, which includes Claudine's habit of snapping at Jacques each time he gently suggests she alter her cooking technique.  I LOVE being a therapist.  This dish is easy to prepare, has very few ingredients, and is a great kid alternative to chicken nuggets – I've served it to a few picky eaters who inhaled it despite the green.
Ingredients:
4 boneless, skinless chicken breasts
1/2 cup brown rice flour
1/2 cup loosely packed Italian parsley leaves
2 cloves fresh garlic
1 teaspoon kosher salt
2 tablespoons grape seed oil
1 tablespoon unsalted butter, cut into small pieces
Technique:
Cut the chicken into 1 by 1 inch pieces (for extra info on preparing boneless breasts, see my tips below).  Place the chicken in a Ziplock bag with the brown rice flour, seal and shake (the bag, and your body too if you're into it) until all the pieces are coated.  Chop and chop and chop the garlic and the parsley, mixing them together on the same cutting board, scooping them into a pile with your knife and then chopping them again until you get this consistency: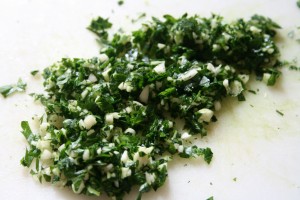 You can see it's not as finely chopped as pesto, but there aren't big chunks either.  Heat the grape seed oil in a large skillet over medium-high until it's shimmering, then carefully place the chicken pieces in a single layer (you might have to do this step in two batches, placing the first cooked batch on a plate while the second is browning). Let the chicken cook until it's lightly browned on the first side, and you can see that some white is creeping up over the pink edges (about 2-3 minutes).  Flip the pieces with tongs and brown the other side, about 2-3 minutes more.  If you did batches, add the plated chicken back to the skillet, and then add your beautiful parsley-garlic choppy-chop.  Using a wooden spoon, stir-fry the chicken until it's coated with the parsley and garlic, and you can smell the garlic releasing that yummy smell (usually about 2-3 minutes – keep an eye on the garlic and try to keep it from browning).  Add the butter pieces and the salt, and continue stirring until the butter has melted over the chicken, and the whole pan looks like sizzling, golden decadence (about 1-2 minutes).  Dish it up and dig in!
Cheryl's Tips:
Boneless, skinless chicken comes in many sizes.  I try to buy organic when I can, which usually means a smaller breast.  If you're using the bigger size, you'll notice one end is much thicker than the other.  A trick: place the breast in a sealed Ziplock bag and use the smooth side of a meat tenderizer mallet to pound it out until the breast is at a uniform thickness, which will make it easier to cut into consistently sized pieces, or, if you want to keep the breast whole, it will cook evenly and to perfection. How efficient to simultaneously prep food and process anger?  I didn't have a mallet for many years, simply washing and using the flat side of a hammer.  MacGruber.
I gave measurements for 2 adult and 2-3 kid-sized portions. The one downside to this dish: the left-overs are lackluster, so prepare just enough to feed your family for one meal.
Here's to Sanity, Jacques and MacGruber,
Cheryl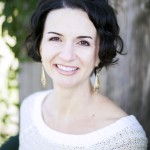 PS: For those of you who are Bloglovin' followers, you can now find our blog on their gorgeous roster. And we're lovin' it. : )