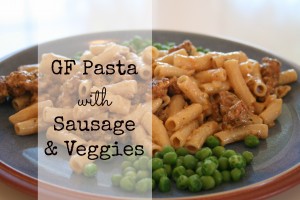 Okay, glorious Readers.  I promised this recipe long ago, and most of you have been patiently waiting.  Others of you have been almost harassing in your repeated requests, comments, emails…settle DOWN, please.  This recipe tethers you to the stove for about 20 minutes, so plan accordingly, knowing the result will be scrumptious and well worth it.  Stove bondage creates a nice excuse for someone else to parent while you throw ingredients around and yell, "Blamblamblah!"  Sexy!  Lots of veggies (kale, spinach or broccoli) work for the hidden, nutritional puree in this recipe; if you have leftover braised collards, roasted Brussels sprouts or roasted cauliflower use one or a combination.
Ingredients:
3/4 lb dried gluten free ziti
1 T olive oil
1/2 pound Italian Sausage (spicy or sweet)
1/2 cup pureed prepared veggies (photo features a combo of brussels sprouts and cauliflower)
1/4 cup marsala wine
1/2 cup chicken stock
2/3 cup heavy cream
1/2 cup freshly grated parmesan cheese
kosher salt and freshly ground black pepper
Technique:
Follow your pasta package cooking instructions to prepare your ziti.  When you add the pasta to the boiling water, it's time to start your sauce.  You'll be stirring the pasta while executing the sauce steps.  It will all come out around the same time, rendering you a cooking genius.  Place a large skillet over medium high heat.  After a couple of minutes, add the olive oil.  When the oil is shimmery, add the sausage and cook, breaking it into small pieces with a wooden spoon.  When the sausage is browned, add the pureed veggies and sauté for 1 minute.  Add the marsala, and allow it to bubble and reduce for 30 seconds, then use the spoon to scrape all the brown yumminess from the bottom of the skillet.  Add the chicken stock, stirring to combine.  Allow the stock to simmer for about 3 minutes.  Stir in the cream, and simmer for about 3 minutes more, stirring occasionally, making sure to keep scraping up all the goodness from the bottom and
sides of the skillet.
By now your ziti should be ready.  Drain but don't rinse it (the starchy water on the pasta will make the sauce cling more tightly), and add it to the skillet along with the cheese, 1/2 teaspoon kosher salt and a few grinds of black pepper.  Stir it all together over the heat until the cheese is melted and the whole skillet looks golden and perfect.  Dish it up and eat it up!
Cheryl's Tips:
I've tried em' all, and my favorite gluten free pasta is Tinkyada.  They have a huge variety (including lasagne sheets), and are easy to prepare.  The only drawback to gluten free pasta is that once cooked, it tends to be slightly fragile, but super yummy.  Kind of like some of my favorite people.  Taste your pasta before draining it; it's perfect when it's still a tiny bit firm, but not chewy or stick-to-your-teethy.  Cooking too much longer can make it squishy.
I learned this in a Thai cooking class.  Allowing your skillet to heat up for a couple of minutes before adding your oil allows the pan to expand, soaking in more of the oil, thus decreasing the chances that your food will stick or burn while cooking.  Magic!  No…Science!  No…Magical Science!
Let's talk about aprons.  If you don't own one, I suggest buying one at your first opportunity (it's easy to find super cute and sexy 50's style lines that will dress up your sweat pants) and wearing it habitually when you cook.  Working with fire and oil can make you instinctually curl slightly away from food prep.  You're protecting your clothes and body from staining and burns, but the apron reduces the need for that.  Get close to that heat!  Less fear = more action = decadent food.  You may draw whatever life/psychological parallels you wish here, for there are many.
While you cook, listen to this.
Here's To Sanity and Magical Science,
Cheryl