We've all got secrets, and the varieties are endless:
Things we carry for others.
Things we've done that we wish we could undo.
Things we're doing we wish we could stop.
Things others have done to us.
Our motivations for keeping secrets vary too:
Risk to ourselves:  career loss, relationship loss, reputation damage.
More risk to ourselves:  we've been physically or emotionally blackmailed into hiding the truth.
Risk to others:  knowing the truth would hurt them emotionally or physically.
More risk to others:  the truth would damage their reputations, relationships or status in their families.
Before having my babies, I once carried a secret for 2 years.  I was certain if I revealed what I'd done, it would damage every aspect of my life.  In the name of protecting myself and people I cared deeply about, I swallowed it and convinced myself I'd never tell.  The sensations I experienced physically and emotionally are as empathically close as I've come to what cancer might feel like.  It was devouring me.  I started having dizzy spells, the worst of which made me miss the toilet and land on my ass in a public restroom – quite the reflection of my mental and emotional state.  I had backed myself into a corner – to tell felt supremely scary and selfish, but to not tell was putting me in peril.  In his book Family Secrets, John Bradshaw writes, "…there is a risk in disclosing [secrets].  But to do nothing is also to take a risk."
All secrets are baggage.  Some aren't that heavy.  We carry them like fanny packs (so stylish!), and they don't seem to get in the way.  Others flux – sometimes they feel light, but sometimes, when we really think about them, they weigh a Samsonite ton.  The worst are the kind that wake you up at night, sit like a cinder block on your chest, cut off your air supply and separate you from people and things you love.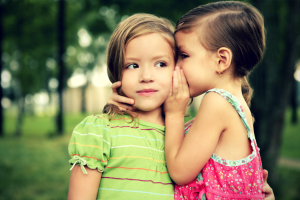 Nesting is a huge part of preparing for a new baby.  Expectant parents clean, paint, purge and purchase in an effort to make their physical spaces perfect.  But what about emotional preparation?  Looking back, I can't fathom how I would have survived the first years of my kids' lives if I'd also been trying to hide.  You are about to turn your body and your life inside out, and the less baggage you carry on the way in, the more agile you'll be.  Scan yourself for things you've buried too long.  If you don't have a close friend or family member to trust, a good therapist can be your vault, carrying the burden alongside you while you figure out what to do with it.  The relief that comes with telling can render you stronger than you could have imagined.
Here's To Sanity and Freedom,
Cheryl