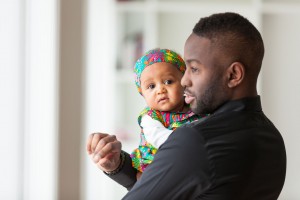 I'm semi-sad to report that my boys have graduated from the sweet, moral-heavy cartoons of Disney, Nick Jr. and PBS. Gone are the cheerful songs and brightly colored shows of their baby-hood. I sort of miss Sesame Street. I don't miss Backyardigans. Honestly, I could go the rest of my life without seeing another Little Einsteins episode, and be just fine.
Before you envy the fact that I am no longer subjected to songs about rocket ships and vegetables, let me fill you in on the next stage in youth programming. These days, if my kids have the TV on, which is not very often (thank goodness), the channel is tuned to Cartoon Network or Nickelodeon, and the shows are snarky, slapstick-y and subversive.
I've noticed that these "older kid" programs, regardless of whether they are a sitcom or a cartoon, follow the same format: There is some sort of family unit, there are goofy challenges that the kids or family faces and there is always, without exception, a "dumb dad" character. The father figure is clueless. He mumbles and bumbles around the set of the show, continually making bad decisions and acting like a fool, while his partner gently redirects him and cleans up his messes. In some cases the dad appears to be almost ape-like (ahem… Clarence) and in other shows the dad looks like he was held back a few decades or has consumed way too much beer and smoked way too much of something (Steven Universe and The Simpsons).
I've thought a lot about this goofy-father archetype and pondered its origin. Was it created by a fed-up feminist who was tired of male heroes dominating the silver and small screens? Is it a 21st century trend that just continues to stick? (The answer to the latter question is not really, since the father-figures in The Flintstones and The Jetsons were not too bright or capable either.)
Since I am neither a sociologist nor a TV-critic, I will refrain from delving deeper into the mystery of the "Dumb TV Dad". But there is one thing I will state: Thank you heaven above that my husband is not like a Cartoon Network or Nickelodeon Dad.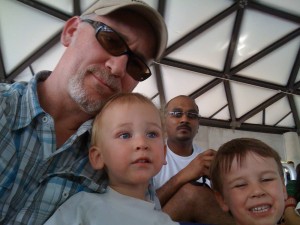 Thank goodness that he thinks for himself and that he is my parenting partner in every sense of the word.
Thank goodness that I can leave my boys with him for the entire day when I go to work and know that he is going to have them fed, exercised, entertained and bedded by 9pm. In many ways, my husband is a better parent and all around human being than me. He is frequently the person I turn to when I get in a bind or make a mess (virtual or actual) – he gives great advice and knows how to fix anything and everything that can be fixed.
I'm happy to report that he is not a unique find in the world of 21st century dads. Today's dads wear a lot of hats and often do it with aplomb. They change diapers, cook meals and plan out the day, right alongside their parenting partners. I happen to know a ton of these amazing guys – let me introduce some of them to you:
There's Brian the Birth Guy who has been a devoted single dad to his two girls from the day they were born, and now helps other couples welcome babies into the world.
There's Ron Malott, The Design Daddy, who adopted two newborns (within months of each other) with his partner, Mike, and is currently raising them to be two gorgeous, involved teenagers.
There's my friend, Terry Cox, who went through a divorce when his son was still an infant, but didn't skip a beat when it came to raising his little guy.
There's David Rose, aka The Babywearing Dad, who follows the principles of attachment parenting and has "worn" his babies since infancy. Did I mention that he also teaches mindfulness techniques to other dads and moms?
There's my friend and colleague, Jason Sipkowski, who worked hard to bond with his babies right from birth and continues to be an active co-parent in his children's lives, following some enormous life-transitions.
I'm so glad that my boys have these men to look to as parenting role models. I'm hoping they see a sharp contrast between these real-life father figures and the doofuses they see on TV. And if they don't, they are sure to hear the constant commentary from their mother while she is watching over their shoulder from the kitchen. (Why is that dad so idiotic? Why does that dad look like an obese rabbit? Why is he catching everything on fire? Why???) The message I hope they hear is that the majority of real dads look, and act, nothing like those silly cartoon characters. So… on that note, anyone want to pitch a new show to Cartoon Network with me??
Here's to Strength and Real-Life Dads,
Kirsten