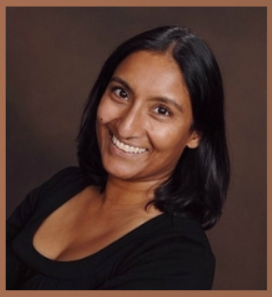 Meet Sadia.  She is a working single mother of identical twin daughters.  In the odd minute she finds between raising her daughters, running a home, driving her commute and working as a business analyst, she runs the multi-authored blog, How Do You Do It?, created by and for parents of twins, triplets and more.  Sadia also serves as the Single Parent Coordinator for Multiples of America.  Sadia grew up in Europe and Asia but now shares a home with her 8 yr old daughters, J and M, in the suburbs of Austin, Texas. We wanted to pick Sadia's brain about her experience of raising twins and learn more about HDYDI, the amazing blog that supports parents of multiples.
BPP: So… what was it like when you found out that you were having twins?  Was it something you had planned or hoped for?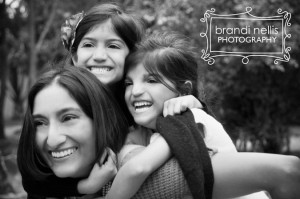 S: I don't think anyone ever plans on having twins, but there was a tiny part of me that hoped for it, just based on the large number of twins and triplets in my husband's family.  The earliest I was prepared to have children was age 26 and my husband wanted to be done by age 24. We agreed on having two kids.  Our twins' birth, which happened 6 days before I turned 27 and 23 days before my husband turned 25, made an impossible set of requirements work!  We knew we were looking at twins on the first ultrasound, 7 weeks into the pregnancy, before the technician even said a word.  We were both thrilled and just wanted to be sure there were two and not three!  We would have been equally happy with triplets, but wanted to know how many cribs to get.
BPP: Can you share about your pregnancy?  Was it challenging carrying two little ones?  Did the birth go as planned?
S: Any multiple birth is automatically categorized as "high-risk" because of the elevated risk of preterm birth and other complications.  For those like me, lucky enough to have uncomplicated pregnancies, that simply translates to more frequent visits with the obstetrician and an ultrasound at every visit.  I had a dream pregnancy.  No morning sickness.  No reflux.  No swollen ankles.  Fabulous hair and skin.  Everything went great until my water broke, without warning, 7 weeks before the twins were due.  The emergency C-section was extremely traumatic, but fortunately their early start hasn't had any lasting effects on my daughters.
BPP: How did you prepare for bringing two babies home from the hospital? Did you consult with any experts or websites on how to prepare for twins?
S: Since J and M decided to enter the world 2 months ahead of schedule, final preparations were never completed.  However, I spent a year in therapy before getting pregnant to make sure that I could be in the best emotional shape of my life going into motherhood.  My general approach was to be an honest and open mother, to allow my children to see my mistakes and how I recover from them.  Everything else in my parenting arsenal stems from that transparency, with a final goal of readying my children for an independent, productive, and happy adulthood.  My preparation for the specifics of twins was limited to intense and wonderful conversations with my husband's aunt (who has fraternal triplets) and great-aunt (who has identical twins).
BPP: Challenges with breastfeeding and sleep deprivation are extremely common for new parents, even with only one baby! Do you remember how you coped with feeding and waking up with two infants?
S: The babies were both home with me at 20 days old.  By then, my husband had shipped off to California for pre-Iraq combat training!  During maternity leave, I quite literally spent half my time breastfeeding: 45 minutes for M, then 45 minutes for J, then repeat 90 minutes later!  I was so grateful that they'd latched at all after my nearly 3 weeks on a pump and feeding tubes that it didn't seem too overwhelming.
Something happened to my body chemistry that allowed me to perform basic functions on just 3-4 hours of total sleep in 45-minute chunks.  When I say, "basic functions", I mean keeping myself and the babies alive.  There was a day when I got to work only to realize that I'd put my pants on inside out in my sleep deprived haze. I  maintained a notebook of feedings, diapers and baths because I wasn't forming any lasting memories and didn't want to risk feeding one baby twice and the other not at all!
The true source of my sanity was my friend Sara, whose (one!) baby was 14 days younger than mine.  We were pregnant together and sent our husbands to Iraq together.  Although she was an SAHM and I worked, it really felt like we were in it together.  She was never scared off by my two babies, and she also knew that I could take on a third when she needed a moment.  Also, having a childcare provider I trusted meant the world when I returned to work.  The babies were only 11 weeks old, developmentally 4 weeks old, at the end of maternity leave.
BPP: Can you share about the first few years of being parents of two? Any challenges or successes that surprised you? How did it impact your relationship with their father?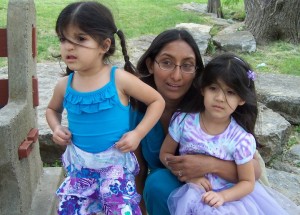 S: I came to motherhood with an assumption that my children would be pliant clay, everything about them attributable to something I or their father had done right or wrong.  Instead, they came out with fully formed personalities.  They even kicked and punched differently in utero!  They certainly have a lot in common, but M and J are very, very different young ladies.  It took no time at all for me to realize that my job as a mother was to give them each the tools her particular personality required for success in life.  I would have very little to do with who they were and was along for the ride!  I had imagined that parenthood would be a thankless grind and was shocked by how much fun I was having.  You can't dance to classic Madonna with a giggling 6-month-old on each hip and not be filled with bone deep joy.
My husband was deployed in Iraq for 15 months of our daughters first two years, and away for training several months besides.  I had hoped to parent as a team even while he was away, but we hardly heard from him.  I don't think the children made any difference in our relationship.  Our physical distance and communication limitations kept us from having much of a relationship at all.
BPP: You are a frequent contributor and coordinator with the blog, How Do You Do It? (HDYDI), a website where "Moms of multiples tell it like it is."  How did you connect with this blog?  How do you feel that it has benefited both you and other parents of multiples?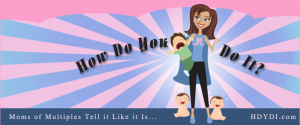 S: I ran across HDYDI when my daughters were about 2 years old.  I knew I'd found my tribe, mothers who really understood the ins and outs of parenting young twins.  I left a comment on a post or two and quickly felt like part of the community.  It was several years before I began contributing regularly, and shortly after that, I took over coordination.
How Do You Do It?  is a family where MoMs (that's MoM-speak for "mothers of multiples") understand that there is no one way to parent, run a family or be a woman.  We have mothers from different family structures, different countries, several religions, completely different politics, and with children of all ages.  We come together with the shared goals of doing right by our kids and making it through each day.  In a lot of other places, I run into the assumption that an answer that is right for one pair of twins must be right for all twins.  I've never seen that at HDYDI.  In raising children who shared a womb and a birthday, we all get to see up close how unique each child is, while acknowledging how special the wombmate bond can be.
BPP: Since having your twins, you and your husband have divorced. You have also maintained a successful career as a full-time business analyst. You definitely wear a lot of hats: single mother of twins, career woman, blog coordinator and more. To echo the title of your blog, How do you do it??  Any tips on maintaining balance when you have a lot on your plate?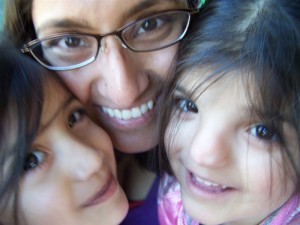 S: That's a big question!  In short, recognize that you can't do it all right now, and that's okay.  Prioritize what matters and forget or delay the rest.  My recommendation is to find the 5 things that matter to you most.  Your list might include marriage, education, nutrition, friends and sleep.  Or perhaps it's breastfeeding, working to a promotion, taking a shower daily, eating one non-cereal meal and having one conversation with your spouse that isn't about the children.  There's no right answer.  At the end of every week, look back and see whether you put the bulk of you energy toward those things.  Readjust accordingly.
BPP: Do you mind sharing which topics or concerns come up the most on the HDYDI blog and how you give support and encouragement to expectant or new parents of twins?
S: The top topics of discussion are these:
– What do "identical" and "fraternal" even mean, and how do I know what mine are? http://hdydi.com/2014/03/12/identical-or-fraternal-a-primer/
– How can I make breastfeeding work with more than one? http://hdydi.com/2014/01/29/ask-moms-tandem-nurse/
– How do I run errands with all these small people? http://hdydi.com/2013/10/21/grocery-shopping-twin-more/
– Should my multiples be in the same or different classrooms? http://hdydi.com/2015/02/27/twins-and-school-together-apart/
– How should I tackle ignorant questions and comments? http://hdydi.com/2013/07/26/its-okay-to-think-it-responding-to-twin-comments/
BPP: If you had to give one sanity-saving pointer to expectant or new parents, especially parents of multiples, what would it be?
S: Remember the Golden Rule and turn it on yourself.  Treat yourself as you would treat others.  Know that you are enough as a parent, whether you accept help to get it all done or you take shortcuts to make things work.  Don't strive for perfection, because you… and your children… will always fall short.  Your children learn by watching you.  If you don't turn self-criticism to either productive change or acceptance, neither will your kids.  If you do accept yourself and do your best, so will they.
Sadia, thank you so much for sharing your experience with your two daughters and your insight. Even for those of us who will never have twins or triplets, your pointers are invaluable! ♥ – C & K

Be sure to check out the How Do You Do It? Blog at this link.
And stay in the loop with HDYDI, Sadia and other parents of multiples on the HDYDI Facebook page.