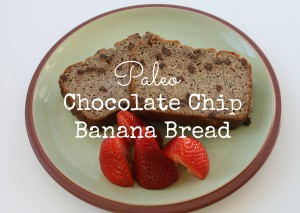 This decadent, healthy bread hails from George Bryant, dynamic author of the website, Civilized Caveman Cooking.  Even if you're not into eating a paleo diet, you've got to check out his site, where you'll enjoy gorgeous photos and delicious, easy to execute recipes.  Plus, "Civilized Caveman."  I need a minute.  Okaaaayyyy on with the recipe.  I've barely modified it by adding zucchini and chocolate chips, for the extra nutrients and yumminess.  Another delightful version omits the chocolate chips and adds chopped pecans, chopped pineapple and toasted coconut.  I love that a thick slice of this bread not only tastes amazing, but has everything you need for a complete meal:  veggie-based carbs, fat and protein.  It also freezes well, should you ever find yourself in an alternative universe with leftovers.
Ingredients:
4 very ripe bananas, mashed
1/2 cup finely grated zucchini
1/2 cup almond butter
4 tablespoons coconut oil, melted
4 eggs
1 teaspoon pure vanilla extract
1/2 cup coconut flour
1/4 teaspoon kosher salt
1 teaspoon baking powder
1 teaspoon baking soda
1/2 cup Goodlife chocolate chunks or mini-chips (heavenly chocolate, without a bunch of crappy things you can't pronounce)
Butter for greasing your loaf pan and spreading on the warm bread… mmmmm
Technique:
Preheat your oven to 350 degrees.  Using about 2 teaspoons of unsalted butter, grease a glass loaf pan (yes, glass, because metal pans get a little extra hot, making the crust too dark and the middle too doughy) very, very well, otherwise the bread will stick like glue, and you don't want to miss a single bite.  (Mandy and her girls refer to pan stickage as "shrapnel."  See my tips below to avoid this terribly unfortunate loss.)
In a medium bowl, use a hand mixer to blend the bananas, zucchini, almond butter, coconut oil, eggs and vanilla until smooth and creamy.  Add all of the remaining ingredients and mix until smooth and creamy again.  You needn't worry about mixing speed or time once the batter is blended, as this is one of those rare baking adventures that doesn't require precision; the bread won't collapse on you or wind up full of holes. Scrape the batter into your loaf pan, and bake for 50 minutes.
Place a strip of foil loosely over the top of the loaf to avoid excessive browning, and bake 10-15 minutes more, until the bread looks evenly browned and doesn't quiver when you tap the pan.  Allow it to cool in the pan on a rack for about 45 minutes before serving with more butter.  Dang!
Cheryl's Tips:
I've tried a version with not-so-ripe bananas, which according to George makes little difference.  Perhaps I have a high-maintenance pallet, but it didn't taste as sweet as the version with super ripe.  I've started buying way more bananas than we need, and when we get to the final four, tossing them in the fridge, where they'll last at least a week.  They turn very brown, but when you peel them, they're perfect and have a higher sugar content. (Preview:  start saving cut up extra-ripe bananas in your freezer for smoothies, a recipe that will blow your baby-lovin' mind is coming soon.)
I am easily pleased by the obscure.  Examples:  the first squeeze (from the very middle) of a new tube of toothpaste, perfectly peeling a label off a new purchase without the tiniest spec of sticky left behind, and dislodging a loaf of bread leaving a crumb-free pan.  Somehow, these minor victories slightly balance chaos.  After the bread cools, run a knife carefully around the edges of the loaf several times.  Invert the pan onto a bread board and tap the bottom, allowing the loaf to slowly and elegantly fall out.  Enjoy this moment of perfection.
Here's To Sanity and Cavemen,
Cheryl