My ex-husband J and I are both therapists.  We used to joke that we met in group therapy, because we were both taking a graduate class on the subject when we started dating.  When people hear this, they often laugh nervously and ask, "So… do you two sit around and analyze each other?"  Naturally.  While being married to another therapist had its intense moments, one benefit was finally figuring out what was happening to us during conflict, and learning from our destructive patterns.  We had the same fight, on repeat, with slight detail fluctuations.  The root of it was our difficulty trusting that we were completely emotionally safe with each other.
J and I both had our share of crappy relationships.  We entered our marriage with some baggage, which got triggered almost every time we fought.  When we had intense conflict, my irrational fear was, "He doesn't really care about my feelings, and is on his way out."  His was, "She doesn't respect me, and she is purposefully trying to hurt me."  When you make these kinds of assumptions emotionally, your thoughts and reactions (body language, words and tone of voice) follow, and the storm swells.  Forget about what started the argument.  Whose turn it was to diaper the baby, do the dishes, or make the grocery run no longer matters.  You are on the defense and incapable of rational thought, and whatever root fuels your arguments will be driving.
Before I proceed, can we agree on something?  Aside from keeping them alive, the best gift you can give your children is your personal sanity, and if you have a partner, an example of a mutually respectful, loving relationship.  Here are some thoughts on how to do that.
Work on Fire Prevention.  Psychotherapist Kelly McDaniel says that in healthy relationships, partners recognize that their union is, in part, for the purpose of healing.  This is beautiful.  It involves understanding how your past experiences and pain influence your expectations and behavior in your current relationships.  Safe, healthy relationships give you the space to air out the baggage, and support each other in moving on, so you can fully enjoy the goodness right in front of you.  I like the assumption that your junk from the past will come up, but with mutual love and support, you can help each other evolve.
Practicing kindness toward each other is a great way to convey love and prevent intense conflict.  Here are two takes on kindness that stick with and recenter me:
Carl Sagan described a way to categorize all of our choices, actions and reactions – they can either further compassion, or further aggression. That's pretty clear.
In his book

The Seven Principles For Making Marriage Work

, Dr. John Gottman encourages couples to treat each other with the same kindness and respect they would an honored guest in their home.  In this scenario, little room remains for bitter sarcasm, snapping or cheap shots.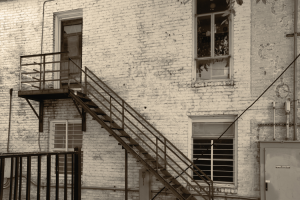 Create a Fire Escape.  So, that's all lovely.  But the truth is, we're human, and in certain circumstances (such as those brought on by the sweet chaos of a new baby) we possess the emotional intelligence of, I don't know, squirrels?  They're nuts.  Sometimes I have an old man sense of humor.   Couples find themselves at a fever pitch in fights, and after receiving and inflicting pretty serious verbal wounds, drag themselves into my office.  I've been there too.  If your house is on fire, you don't stand in the heat and smoke and try to resolve "issues."  You just get the hell out.  Later, when it's safe, you can go back in and figure out how to repair.  Here's where the need for a Fire Escape comes in:  in an intense fight, recognize it's time to take a cool down, and give each other physical/emotional space until you're ready to rationally resolve the issue.
Plan the terms of your fire escape when you're calm, not during an argument.  It can take many different forms.  Sometimes simply going into separate rooms and focusing on slowing down your breathing for a few minutes is all it takes.  For J and I, when either of us sensed we were losing our grip, we'd call a time out.  He would go outside, and I would stay inside, giving him space to cool off, reminding myself that we'd eventually work it out.  This time apart can be excruciating, but it's better than saying things you can't take back.  Remember that you both want resolution and to feel close again, but you need a moment to cool down if that's to happen without damage.  If you take a breather and still don't feel ready to reconnect, like Kirsten says, it's okay to go to bed angry and try again after some sleep.
Even if the dynamic in your relationship changes through separation or divorce, it's never too late to improve your communication and esteem for each other (more advice on this from an awesome single dad we know, Terry Cox.)  J is still one of my best friends, even though we went through a painful split.  We work hard to put our egos aside and show respect for each other, giving our kids a healthy, loving friendship between their parents.  We're not perfect and get it very wrong sometimes, but conflict recovery is easier when we remind ourselves that we're in good, safe hands with each other.  I hope you have that peace of mind in your relationships, because you deserve it.  Anyone who would tell you otherwise can eff off.
Here's to Sanity and Squirrels,
Cheryl