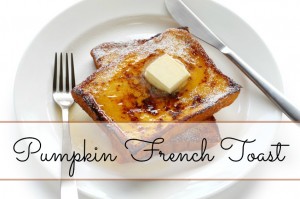 Kirsten taught me this twist on a breakfast classic.  I love that it provides a healthy balance of protein, veggie-based carbs and fat.  Since it doesn't require pre-soaking the bread or a long baking time, it's not uncommon for me to quickly throw this together for dinner when I'm in a pinch, with zero complaints from the table.
Ingredients:
8 slices thick-sliced, farm-style bread (the staler the better, use gluten free if you want to be extra healthy)
1 large egg
1/2 cup canned pumpkin
1 t vanilla extract
1/4 teaspoon cinnamon
3/4 cup milk or alternative (my favorite is coconut milk)
2 Tablespoons coconut oil for frying (butter or canola oil can also be used)
Maple syrup, honey or agave nectar for dipping (optional)
Technique: 
Heat skillet or griddle over medium.  Slice bread however you like (my kids like strips for dipping efficiency).  Whisk egg, pumpkin, vanilla and cinnamon in a shallow bowl until smooth and well blended, then gradually whisk in milk.  Melt coconut oil in skillet until shimmering.  Dip bread into pumpkin mixture and carefully add to skillet.  Cook about 1-2 minutes on both sides or until golden brown.  Serve, eat and swoon.
Cheryl