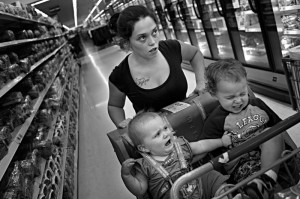 We all mean well.  Parents in the Wild (aka Target) tune into each other, and can keenly sense distress.  The desire to help each other out is natural and good, but sometimes our ways of going about it miss the mark.  Here are three ways I often received "support" that felt anything but supportive:
"Enjoy this; it will pass before you know it," (usually accompanied by a longing expression).  I knew these parents were wise, and the advice was actually good.  But at the time, the psychotic impulse I resisted was planting my hysterical baby right in their hands, screaming, "Here!  Take her!"  and then running the hell away.  Seeing the forest for the trees is a very important skill for a new parent, but suggesting he or she do so in the midst of a melt-down is poorly timed.
"She's probably hungry."  Rage.  Rage.  Condescending imagined response, "OMG!  I totally forgot to FEED my baby! Thank you for reminding me!  I'll get on that right away!"  Again, just a suggestion from an innocent bystander, but for many moms, feeding their babies feels like all they ever, ever do, and if breastfeeding is a struggle and/or milk-production is low, it can really sting to hear that someone thinks their child is hungry.  Or, maybe they had the tiniest window in which to run an errand, and they pushed it a little too far because it felt so amazing to be out of the house, and they already feel like guilty crap about it without the extra feedback.
Anything, ever said to a parent while pretending to use the "baby's voice."  Picture a mom standing in a check out line, holding a screaming infant.  Person Behind Mom, "speaking" for the baby, "Mama, I'm tired!  Take me home, Mama! Mama, try to enjoy me now because soon I'll be 18 and wrecking your car!  Mama, I'm hunnngggrryyyy!" Perhaps this is intended to add a bit of cheer to the situation, but it often comes through as passive aggressive, and makes moms want to scream, "This is my baby!  Not your puppet, Scary Ventriloquist Mystery Shopper!"
You can safely assume that most parents are doing everything they possibly can to keep their babies happy while simultaneously managing the rest of their lives.  Why not help in an Advice/Analysis/Assessment-Free way?  Here are three ways to offer impactful support:
Tangible.  If you notice a parent is in the weeds, and you can see small, specific, non-intrusive ways to lighten their load, offer them up.  "Your hands are full.  Can I help you by putting your groceries on the counter?"  Even if they refuse, most parents appreciate the gesture.
Encouraging.  Sometimes offering up a positive statement about how hard the parent is working to manage everything can mean the world, "Parents like you inspire me – thank you for holding it together and hang in there!"  Or, "You know how all of these people are staring at you with disdain because your child's screams are hurting their ears?  Screw em'!!!"
Respectful.  Sometimes parents are just barely hanging on, and are in a zone.  They just want to complete their errand and get themselves and their little screamers out the door.  Times like this, no feedback, positive or negative feels helpful. Take moments like this as opportunities to silently affirm.  You can send out a positive vibe, or if you're a praying person, offer one up, while giving her physical space.
Good intentions are powerfully kind, and when they translate to meaningful, receivable support, they can also be powerfully impactful.
Here's to Sanity and Ventriloquism,
Cheryl