Update 10/2015: Since we interviewed Brian one year ago, a lot of amazing things have been happening for him. He and a team of other dads launched the Rocking Dads Podcast. He went live on Periscope and hasn't stopped sharing his enthusiasm with the world. And he recently signed contracts in LA with an agent and a producer to launch his own reality show. Look out for The Birth Guy. He's coming to a screen near you!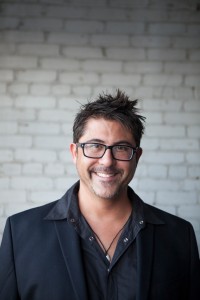 Meet Brian Salmon, aka The Birth Guy.  Brian is San Antonio's only actively practicing male doula (or "Dude-La" as he likes to call himself, being a surfer from California).  The Birth Guy knew he'd found his calling in birth education and support when he assisted his first birth at 19 years old.  Witnessing his daughters, Eva (9) and Daisy (5) both be born by emergency Cesarian delivery reinforced his desire to help parents prepare for childbirth, regardless of how the birth unfolds.  Brian is a Certified Lactation Counselor and owns BabyVision Ultrasound, San Antonio's leader in prenatal imaging.  Having worked with over 19,000 expectant families, Brian has taught many childbirth classes and currently facilitates the ever popular Rocking Dads and Facilitating Fearless Birth workshops. Brian has been featured on NBC, FOX, ABC, Univision and the blog, OurMilkyWay.org.  And just last week, he began filming a pilot for the new Birth Guy TV Show! We are so excited to feature The Birth Guy on the BPP blog, because his passion for helping new parents is truly one of a kind.
BPP:  It is highly unusual to meet a male doula or lactation counselor. How did you find yourself on this career path?
TBG: I sort of fell into it.  I was asked to coach a very special birth at the age of 19 while studying pre-med and I loved it.  Over the last four years, I have expanded my services and outreach because of the need I've seen not only in my community, but in the United States…well, really globally.  I saw many birth professionals instill fear in the expectant parents they were working with.  I felt like I needed to get out there and make a difference when I realized that too many moms walk away upset and wounded from births.
BPP: You facilitate the wildly popular and very unique Rocking Dads workshops. Your classes are always jam packed. What kind of experience do expectant fathers take away from your workshops?
TBG: I'm going to let the dads speak for me.  Here are a few bits of feedback from a book of evaluations I keep:
Brian was awesome. Funny, informative and reassuring. The man definitely knows what he is talking about!
The information about the birth plan was helpful – a lot of great advice about what to do and what not to do.
Brian was excellent – tons of great info in three hours. I feel much better and more prepared. He was understanding and non-judgmental.
All of the advice about breastfeeding and childbirth was great – this workshop could be twice as long.
Brian is no BS – he talks about things at everyone's level.
BPP: What are the most common concerns or issues you see with expectant or new dads?
TBG: Most dads need to realize that birth is what mom was designed for,  so when she is screaming, moaning, growling, hitting, crying and everything else that happens in labor, he just needs to support and hold space.  Dads sometimes feel pushed aside in the process.  I teach them to not just be present, but that they have responsibility to be the other half of the parenting team.  We cover so much in the class from understanding pregnancy, stages of labor, interventions, breastfeeding, team building, creating a birth plan and millions of other things that go along with the ride.
BPP: You have mastered the skills of lactation educator and counselor/consultant. How do you partner with couples to prepare them for the job of breastfeeding?
TBG: Education, education, education!  Some breastfeeding classes are taught, not for success, but by people who want you to hire them when you have problems.  I prefer to prepare moms in such a way that they rarely need more than a follow-up phone call after baby arrives.  I train the partner to look for common signs of an improper latch, but most of all I encourage them to support and love on mom so that she is calm.  It is important for her to take some time to get relaxed with baby.  I also train couples to recognize early feeding cues so they have time to latch before the baby freaks out and is screaming for food (which isn't good for anyone).
BPP: As a birth doula, how do you interact with couples in the delivery room?  Do you attend both hospital and home births?
TBG: I go wherever I am needed – different families require different things.  Regardless of the birth setting, I make sure that my clients are prepared and that we act as a cohesive unit.  When I take on a client, I partner with them on everything: ultrasounds, education, birth visualizations, breastfeeding training and a visit to the hospital or birth center.  I love home births as well, but that is a whole other type of doula-ing!
BPP: Do people ever question your ability to advise on breast-feeding or childbirth since you are a man?
TBG: I have definitely experienced healthy doses of reverse discrimination.  The only people who ever question my expertise are people who don't know me or view me as competition (personally, I don't view other birth professionals as competitors, because there are plenty of expectant couples to help, and that should be our focus!).  When an individual gets to know me or takes one of my classes, they get it.  There is a reason that multiple lactation consultants support me in teaching free breastfeeding classes every month in San Antonio – I know my stuff!
BPP: Anyone who interacts with you or your website can see that you clearly LOVE your job.  You radiate enthusiasm and positivity!  What are things you enjoy the most about it?
TBG: I do not feel like I work a day in my life!  My favorite moments are when I see a couple embrace with a new kind of intimacy that just radiates love and compassion.  I am so excited for all the expectant parents I work with, and even more excited when I know they have really worked hard, together, to achieve the the birth they want.   I love when I hear a birth story that may not have been what the couple wanted, but because they were prepared mentally and emotionally, the new outcome does not take away from the joy of a baby and a brand new family dynamic.  I love seeing parents really get breastfeeding and work through the speed bumps.  And of course, seeing babies be born is a favorite!
BPP:  You are a father to two young girls.  How does being a dad impact your business and career path?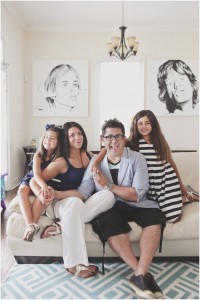 TBG: It's more like, how doesn't it?  My girls are phenomenal.  They both totally get what I do for work.  I often see my clients in public, and they call me "The Birth Guy".  My oldest says that's the real reason I'm popular, and she may be right!  I have learned so much from them both, which translates into a different understanding and perspective in my career.  Eva, my oldest, was not at all the pregnancy, birth, or breastfeeding experience I thought she would be.  She was exactly the opposite.  That paved the way for me to change and redirect my approach/understanding.  I learned a new type of compassion which drove me to really teach people what the "dark corners" can be, giving them a metaphorical flashlight.  Daisy, my second, was born sick too.  We were more prepared, but the journey was different.  We were divorcing during the pregnancy, which was horrible.  I felt abandoned, while waiting for a baby to arrive, knowing that I would only see both of my kids 1/2 time.  It really taught me about strength (and about poor decision-making), and it ultimately shaped me into a much better father, friend and Birth Guy!
BPP: If you had to give one (and we know you have ten million) sanity-saving pointers to expectant or new parents, what would it be?  
TBG: Go get educated in birth and breastfeeding, and nurture your relationship, as this will give your baby the best environment.  Be careful to not choose mentors who are negative and teach with a fear-based style!
We've met a lot of amazing folks in the baby industry, and Brian is one of the true gems. Check out his social media channels and YouTube videos, especially if you are in need of a smile. Thanks for sharing your wisdom with us, Brian! C & K ♥
Want more?
Go to The Birth Guy's website for classes schedules, doula services and great videos: http://thebirthguy.com/
Like Brian on Facebook at: http://www.facebook.com/brianthebirthguy
Follow @BirthGuy on Twitter at: http://twitter.com/BirthGuy
Find his videos on YouTube…. more to come: https://www.youtube.com/channel/UCvfvVfZQc06tpHjXWekt9OA
One last thing – here is an ad that The Birth Guy created to advocate for breastfeeding, wherever a mom needs to, even if it is public: