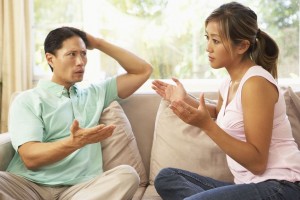 Your baby is fussy, house a wreck, and you're sitting there, stewing in anger and frustration. By the time your partner walks through the front door, your emotions have reached a fever pitch, and before you know it, word vomit is everywhere. "What were you doing today?! Didn't you get my TEXTS and voiceMAILS?!" She looks at you, stunned, and either word vomits back, or shuts down completely. Both of you feel terrible. It's the same with kids. Trying to get them to make different choices by yelling at them never works. They reflexively clam up, retreat, lie or yell back. We never quite grow out of those responses to being "in trouble."
In his stellar, research-based book  The 7 Principles for Making Marriage Work, John Gottman identifies several unhealthy communication habits that destroy relationships. This one? "The Harsh Start-Up." Kirsten's 5 suggestions on what to give your partner when you're feeling annoyed made me think hard about this specific communication error, which can shut a conversation down before it even starts. So how do you avoid a harsh start-up when you're really upset?
Purge it. Find ways to let out some of the intense feelings before you try to talk to your partner about your needs, through things like journaling, a spurt of vigorous exercise, or screaming into your pillow. When you're feeling flooded emotionally, it's often impossible to identify what would help you feel better or communicate respectfully.
Process it. Talking to another parent or trusted friend outside of your intimate relationship can help you sort through the emotions, discern what might be your own issues to work on, and what you should bring to the table with your partner.
Present it. Try keeping your voice calm. Avoid criticism, blaming and lecturing. Explain how you feel, and ask for what you need in a measurable way. "I felt overwhelmed today, and when you didn't respond to my messages, I also felt alone. Will you please check your phone at lunchtime, and respond with a short text, letting me know you heard me?" Anger is normal, healthy, and often justifiable, but if you want positive, lasting change, delivery is critical.
Here's to Sanity and Being Heard,
Cheryl