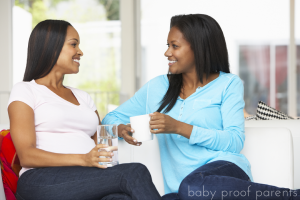 Until I had a baby, I had no idea how important it would be to tell my birth story.  I understood the educational component of tv shows on the subject, and noticed how passionately new moms talked about their experiences, but I didn't really get it.  Now, if anyone seems even remotely interested in hearing about the births of my two, I can feel heat rise in my cheeks and hear my voice getting louder.  My habit of talking with my hands goes nuts as I become more traffic director than story teller.
I'm certain you're intrigued, so here's the cliff notes version:  my daughter arrived in a little under 3 hours, which is rare for a first time mom.  None of us were prepared for this, including my midwife, who had just enough time to slip on a pair of surgical gloves as she ran from our front door to our bathtub, catching our baby after my last push 4 minutes later.  I wouldn't change anything, but at the time, I was terrified to the point of emotionally leaving my body – it was as if I was watching myself go through it from somewhere near the bathroom ceiling, as J did his very best to keep us both on the ground.
A difficult emotional component of many new moms' experiences is the massive, abrupt attention shift from her pregnancy and needs to the needs of the new baby.  The birth is often skipped over, even though it is the most formative and insane process imaginable for first time parents.  Suddenly the baby is here.  Everything changes.  And there is precious little time to emotionally catch up to the here and now, let alone fully assimilate what has just happened physically.
Kirsten and I use the word "processing" constantly.  Processing is more than just chatting.  It's talking with intention, venting things out, sifting through messy feelings and patterns we don't fully understand.  The result?  Lightness.  Both in having emptied out burdens, and actual light being shed on things that weren't quite clear.  And if anything warrants some intense processing, it's a birth.
One of my favorite moments of birth processing happened with my friend Shannon.  She listened attentively to my story, asked tons of questions, and identified with me. When I was finished, she shared hers.  It was awesome, especially her description of the part of her labor when she felt like a cow trying to push out a calf.  She actually got down on all fours and demonstrated the lowing sounds she had made.  We laughed and cried and just sat there reflecting on what a crazy experience it is.  We decided that someday, we will host a birth recreation experience for moms.  Wine and a stage and an invitation to get up there and process-perform their labor.  Audience members are invited to cheer, "Go, Mama!!!"  We shall call it, "This Shit HAPPENED To ME."
If you're a new mom, and you haven't told your birth story to someone who is hanging on every word, see if you can make that happen.  Even if it means a nice long phone conversation with a best friend who doesn't live here.  Share with your partner, as he or she needs to process too, and you were likely tuned into completely different details.  I used to ask J, "Will you tell me the part about when you thought I was a total badass again?"  If your birth story was traumatic or a complete departure from what you'd hoped for, consider sharing your experience with a therapist.  Some things change us forever, and if we don't assimilate the past, parts of us get left behind.  Scoop all that up and bring it.  Terrible or amazing, it has refined you, which renders it beautiful.
Here's To Sanity and Processing,
Cheryl