I frequently get asked if my counseling practice slows down during the holidays.  The answer is No.  The holiday season is notorious for being a stressful time and my clients can attest to that.  Expectations are sky-high, schedules are jam-packed and family members get testy as a result of all the togetherness.  Even I can feel bogged down by my mile-long To-Do list that does anything but put me in the holiday spirit.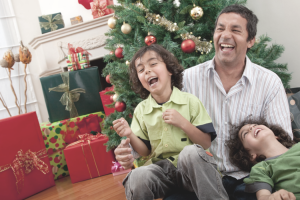 When my husband and I started a family, I assumed that my babies were going to hand me a one-way ticket to holiday bliss.  I couldn't wait to introduce them to all of the little traditions that I remembered from childhood.  My littles clearly did not feel the urgency that I did.  In spite of the calendar indicating that it was a very special day, our boys still required naps, still got the sniffles, still had nuclear meltdowns and still got into squabbles.  I quickly realized that I needed to simplify the holidays more than ever in order to maximize enjoyment and minimize stress.
When you are a new parent, here are some things you might want to Just Say NO To:
Traveling back and forth between separate family events on the same day.
Lugging the whole family to faraway destinations to celebrate with distant relatives.
Feeling like you have to keep up with everybody's extravagant gift giving. (Consider asking friends and family to set a price limit, do a gift exchange or skip gifts for adults all together.)
Hosting the whole clan at your house (including your single neighbor and your Great Aunt Marge) on the big day.
Wanting your home to look like it popped out of a Better Homes & Gardens magazine.
Cooking the turkey, dressing and pies all by yourself for your holiday meal.  (Consider catering or potluck.)
Sending out perfectly designed holiday cards with matching address labels.
Feeling like you have to shower your young children (who aren't even quite sure what is going on) with loads of presents.
Thinking that everyone's holiday is merrier than yours. (Cuz it isn't.)
Having breakable ornaments or decorations anywhere within reach of your toddler, because they WILL be shattered.
Participating in any activity or event that you don't find completely delicious.
I'm going to insert a big UNLESS here. Say 'no' to all of the above UNLESS one or more of the activities bring you joy.  I'll give you an example: Cheryl is a superb cook (as you can probably tell from the Foodie section on our blog) and truly enjoys preparing a feast.  I, on the other hand, am no Julia Child and would much rather kick my feet up on the sofa with some spiked eggnog and A Christmas Story playing in the background.  While Cheryl might say 'yes' to hosting a big holiday meal and might even do most of the cooking herself (and might create a spread worthy of the royal family), I am more likely to head to my parents' house or ask everyone to contribute a dish.  Say 'yes' to what makes you happy and 'no' to anything that sounds draining.  You have our permission.
Other things to consider Just Saying YES To:
Structuring your schedule around your baby's sleeping and eating routines so you don't have a grumpy child the rest of the holiday.
Staying home if you want to. (Being a new parent is a great excuse. Use it!)
Starting small family traditions that will stick in your children's head more than any gift will.  (Examples: We fix a big Christmas brunch and stay in our pajamas most of the day.  We love looking at neighborhood lights in a convertible mustang with hot cocoa.  I awkwardly play holiday music on the piano while my kids throw out exaggerated groans.  Some of our friends set up a puzzle on a card table or go see a movie.)
Pushing the commercialism aside and reminding yourself and your kids about why the holiday was created in the first place.
Maintaining realistic expectations of the day.  Your little ones don't have a built-in calendar app in their head.  Expect them to still act like kids.
I have to admit that our holidays have become more and more enjoyable as my boys have gotten older.  They anticipate the holidays with excitement, they look forward to our silly little traditions and they keep their hands off the delicate tree ornaments.  (Yes, this can be a reality for you too.)  But they still end up in occasional fist fights or start the "I'm booooored" chant in the afternoon.  When you have kids, your holidays might look like any other day with a handful of sparkly extras.  Enjoy the sparkle and try to roll with the rest.
Here's to Sanity and The Christmas Story,
Kirsten