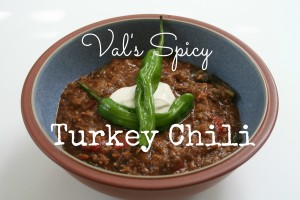 I know it's still sooo hot in Austin, but September means that fall, my favorite season for cooking and clothes, is around the corner.  Central Market has started stocking pumpkins, which makes me want to skip through the produce section.  So, I'm going to pretend fall is already here and share a nice hot recipe with you.  My friend Val is a great cook, and a badass.  That's why this chili is so good.  I love how she and her husband James cook together.  They take a recipe, prepare it as written the first time, and after sampling it, they modify, modify, modify until it's perfect.  And their version of perfection is so right. Enjoy with a cold IPA and pretend it's not a 100 degree sauna outside.
Ingredients:
1 tablespoon olive oil
1 cup chopped onion
2 cloves garlic, finely chopped (I have old recipes that refer to cloves as "buttons", which makes me want to knit a vampire-retardant sweater with garlic buttons on it)
1/2 cup chopped red bell pepper
1 lb ground turkey breast
1/4 cup chopped cilantro leaves
1 bunch lacinato kale, stems removed and leaves coarsely chopped (optional)
3 1/2 cups chicken stock
1 cup beer (Pabst Blue Ribbon, or for a lighter flavor, and so you can still have beer left to drink after measuring the cup for the chili, Sapporo)
2 tablespoons chili powder
1 tablespoon kosher salt (less if you're sensitive)
1 teaspoon ground cumin
1 small can diced green chilis
1 14 1/2 oz can diced rotel tomatoes
1 6 oz can tomato paste
1 can refried black beans
Technique:
In a large dutch oven, heat the olive oil over medium high.  Add the onion and sauté until it's transparent and softened.  Add the chopped garlic and continue cooking until the garlic is fragrant, about 1 minute.  Add the bell pepper and cook 2-3 minutes more.  Then add the turkey breast, and cook, breaking the meat apart with a wooden spoon, until it's no longer pink.  Then you add everything else!  I love this part, dumping in a bunch of cans and seasonings and stirring until it's all smooth.  Bring the chili to a boil, then reduce the heat and simmer over medium-low heat, stirring occasionally, for about 45 minutes to an hour, until the liquid reduces and it's the perfect thickness.   I add the optional chopped kale to sneak in some veggies, and top with a little daiya cheese and Veggie Pirate's Booty for my kids, and for me, a dollop of sour cream and some blistered shishitos for extra heat.
Cheryl's Tips:
To prevent crying while chopping onions, put on a pair of sunglasses. Not only does it prevent your eyes from stinging/burning, it makes you look amazing in that ironic, "Too Cool for Others" way.  If you're a child of the 80's, you're extra awesome, and you can sing this little diddy to the tune of Corey Hart's "Sunglasses at Night":  "I wear my sunglasses inside, so I can so I ca-an chop onions without tears in my eyes…"
Here's to Sanity and Fall,
Cheryl