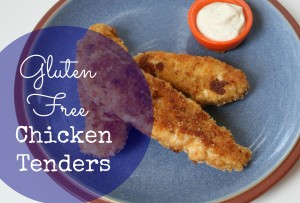 The slow frying of these tenders is what makes them juicy and perfect.  If you cook them too quickly, the outside gets overly dark while the inside doesn't fully cook through, resulting in burnt and chewy chicken.  Slow and low is counter to my preference of cooking too fast, too furiously… of doing many things too fast, too furiously.  Naturally, there's a psychological parallel here.  Sometimes speed is the need – you have to act impulsively to keep life interesting and honor your gut, even at the risk of burnt, chewy crap.  But, making yourself sllloowwww down and catch a breath (ideally engaging your left brain) can make all the difference in quality.  All about balance, ya'll. 

Ingredients:
3 boneless, skinless chicken breast halves, cut into strips length-wise (about 4 strips per breast)
1/2 cup white rice flour
2 eggs
3 slices gluten free sandwich bread, finely crumbled
kosher salt
1/4 cup olive oil

Technique:
Grab three medium sized bowls.  Put the rice flour in one bowl.  In the second bowl, whisk the eggs until well beaten, and put the bread crumbs in the last bowl.  Place a large wire rack on your counter (over a couple of paper towels if you want to minimize the mess factor).  Line up your bowls, and get ready to dip.  One strip at a time, coat the chicken in first the rice flour, then the beaten egg, and then the breadcrumbs, carefully placing the strips on the wire rack to slightly dry.  This can get very gooey, so if you have them, use plastic gloves.  Don't worry if you run out of one of your dipping elements, simply pause to crumble up more bread or throw in another beaten egg, until all of the chicken is coated.
Sprinkle the tenders generously with kosher salt.  In a large skillet, heat the olive oil over medium to medium low until it's shimmering, but not smoking hot (like you are).  Carefully place the chicken strips in the oil (don't crowd them, and know that you'll probably have to cook at least 2 batches depending on the size of your skillet).  Fry the strips on the first side for about 5 minutes, and when they're golden toasty brown, use tongs to flip them to the other side and cook about 3-4 minutes more.  Gently press your tongs against the tenders.  If they feel squishy, lower the heat to medium low and cook them a minute or two more.  When they feel firm and are golden all over, remove them to a clean wire rack and let them cool for about 5 minutes (this time allows them to cook a little longer with the residual heat).  Lovely.  Dig in!

Cheryl's Tips:
I photographed the tenders alongside our garlic aioli, a delicious accompaniment.  The chicken tastes best the day it's made, but you can reheat it by toasting in a 350 degree oven for about 7-10 minutes.  My favorite way to eat leftovers is chopped and added to a Cobb salad. 

Smile extra big as you eat this chicken, knowing you prepared it from 100% love and acceptance, unlike some chicken, at a certain chain restaurant.  Just sayin'. 

Here's To Sanity and Slowing Your Roll,

Cheryl