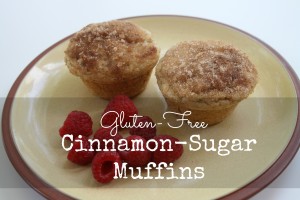 These fluffy muffins are vaguely reminiscent of the frozen cinnamon sugar donuts my mom occasionally baked and served up for breakfast.  The same company made "honey buns," and when those hit the table, it was ON.  They probably contained glue, but hey, who's keeping track?  When these gf delights are on the menu, we have a "one muffin at a time" rule, because like most humans, my littles like to eat the sweet caramelized tops, leaving the sad bottoms to crumble into oblivion.
Ingredients:
For the Muffins:
1 1/4 cups Pamela's Pancake and Baking Mix
1/4 cup plain yogurt or kefir
1/4 cup milk or milk alternative
1 egg
1/3 cup honey
1 teaspoon pure vanilla extract
1/4 teaspoon ground nutmeg
1/2 teaspoon ground cinnamon
1/4 cup finely grated zucchini (optional)
For the Topping:
1/4 cup sugar
1 teaspoon ground cinnamon
2 tablespoons butter, melted
Technique:
Lightly grease a 6 cup muffin pan, and preheat your oven to 350 degrees.  In a medium mixing bowl, gently stir all of the muffin ingredients together just until blended (see our GF Orange Glazed Muffin recipe for the emotional ramifications of over-mixing).  Scoop the batter into the muffin pan, dividing it evenly between the six cups.  Bake the muffins for 18-20 minutes, until they're lightly golden.  Remove them to a rack to cool slightly.  Meanwhile, mix the cinnamon and sugar in a small bowl until well blended.  Gently remove the still very warm muffins from the pan, and roll the muffin tops first in the melted butter, and then in the cinnamon sugar mixture.  I said "muffin tops".
Cheryl's Tips:
No tips on this recipe – it's a cinch, and if they're old enough, you can even enlist your kids' help in rolling the warm muffins in the butter/cinnamon-sugar mixture.
You're smart and pretty.  And don't you forget it.
Here's to Sanity and Muffin Tops,
Cheryl