Most parents I know have at least one, but usually multiple stories involving a pee or poop disaster out in public. In my case, it involved some Haribo Gummy Bears, a preschooler, a baby, a restaurant bathroom that had run out of paper towels and a diaper bag that was left at home. I tell this story not to gross you out (although you probably will be grossed out) but to help you learn from my obvious parenting gaffe.
It was a sunny afternoon and my kids and I were going stir crazy at home. I decided on a whim to whisk them off to an enormous play-scape, nestled in between a bunch of restaurants near our home. I considered grabbing the diaper bag but I noted that my toddler had just had a diaper change and my preschooler had recently conquered potty training. Our neighborhood was right across the street so we could run home if needed, right? (First big mistake.) I threw my boys, two sippy cups and myself in the car and took off. Three cheers for spontaneity!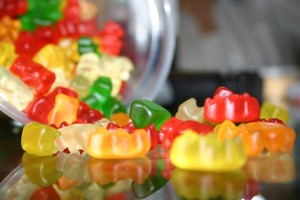 Things began to go awry when my 3-year-old noticed an old bag of Haribo Gummy Bears in the car. Did you know that Haribo bears are famous for their laxative effect? Well… I didn't. And being in the care-free mood that I was, I said, "Sure, have some gummy bears!" (Second big mistake.)
After arriving at the playground, we busied ourselves with typical climbing and swinging activities until it happened: My 3 yo. began walking toward me awkwardly and I noticed something oozing down his leg. Yup, the Haribo gummy bears had done their magic.
"Oh. No." I muttered.
"OK… let's get ourselves to the bathroom." I scooped up one child in each arm and speed-walked my way to the closest restaurant and directly into their restroom, where I promptly discovered the absence of paper towels.
I'm not going to go into a lot of detail here, because you can probably imagine what happened next. With no diaper bag and no paper towels, I was pretty much helpless. I threw several items of clothing in the trash and did my best to mop up the rest of the mess with toilet paper. I only paused from my frantic clean up attempts to beg my toddler to "Please don't crawl over there! Please don't touch that! Please don't put your fingers there!"
Fortunately my son's t-shirt was long enough that when I carried him and his baby brother back through the playground, no one noticed that he was wearing nothing below the waist. My guardian angels threw me a bone when I found a spare towel in the trunk of my car. I wrapped him in it, strapped him in his car seat and headed home for a long, hot soak in the bath.
All in all, it wasn't a big deal. A little poop. A little mess. A lot of embarrassment, especially when another woman walked into the restroom and visibly reacted to the odorous mayhem.
My take-away from the day? Never leave the house without the diaper bag. Just. Don't.
The mistake I made that afternoon is that I expected the best but I didn't prepare for the worst. That was outside the usual norm for me. Usually I am ALL OVER  the worst. Most parents I know naturally evolve into what I call "Worst Case Scenario Experts". They are able to magically predict all of the possible scenarios that can arise in a certain situation and be amazingly prepared. I am a strong believer in positive thinking and the power of visualization. But when you become a parent, you also have to continually foresee all pitfalls and disasters.
Here are examples and suggestions for how this comes into play, all the way from pregnancy to older kids:
Labor & Delivery:
Expect the best – Visualize how you want the birth of your child to go. Your body was designed to do this incredible job. Go into the experience with confidence that you can make your birth plan work for you. Take childbirth classes and talk with experts who will give you information and tools to manage your pain and ultimately create the birth experience you want to have.
Prepare for the worst – Talk with your partner, your doula, your midwife and/or your doctor about Plan B if things don't go as you hoped. How do you feel about the various pain-relief options? Are you open to epidurals? If you are planning a home birth, and need to be transported to a hospital, will you be prepared? In the event that you require an emergency C-section, does your doctor or midwife have a protocol that they follow?
Newborn Care & Breastfeeding:
Expect the best – Take infant care and breastfeeding classes to arm yourself with wisdom and guidance on how to proceed with these new tasks. The more info you have the more confident you will feel. Imagine yourself being a fabulous new parent. Even if you and your baby struggle with some of the new skills at first, you will most likely work out the kinks as time passes.
Prepare for the worst – Have the phone numbers of lactation consultants and sleep experts on standby in case you need a little advice or encouragement. Ask your experienced-parent friends if you can call them every once in awhile for mini-consults. Know that perfectly healthy infants struggle with reflux or colic at times – this does not mean you are a failure as a parent. Ask for help when needed.
Self-Care & Relationship Care:
Expect the best – You and your partner will be tired and emotional as new parents, but you will also find yourself experiencing periods of euphoria and incredible love for this little person you just brought into the world. You will also feel closer than ever at times. Visualize yourself easily navigating the physical strains of being new parents and getting stronger and more competent with time.
Prepare for the worst – If your friends want to set up a meal calendar, say yes! If they want to send in a cleaning service or a diaper service, say yes again! You can always cancel these things later if you feel like you don't need them. If you are prone to depression or anxiety, don't be afraid to reach out to a counselor ahead of the birth of your child. Ask close friends and family members to be on stand-by in case you and/or your partner need a sanity break or a rest. Stock your fridge with healthy foods and your Netflix queue with great flicks, so that you and your partner can enjoy all of the together time you will have in your family room.
Toddlers and Preschoolers:
Expect the best – Don't think your life will be put on hold just because you have little ones. You can still go to the outdoor concerts, brewery parties and big family events. Your kids will benefit from being out and about. Expect that they are going to be thriving and growing as they get older. Get ready for tons of fun.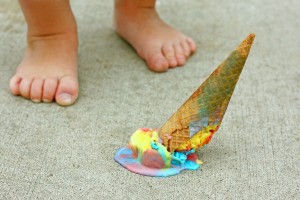 Prepare for the worst – We went over this earlier, but let me repeat: always have a diaper bag filled with the basics (burp cloths, wipes, diapers, tissues, changing pad, change of clothes, snacks, sippy cups/bottles, plastic bags, etc.). Have it ready to go so you can grab it on a moment's notice and always feel prepared. Have small toys or treats ready for those times you have to wait in a long line. Have a favorite blankie or stuffed animal ready for meltdowns. Don't forget to bring a bottle of water and snacks for yourself. You need to take care of you!
And on a grander scale, if you have any concerns about your child's development, behavior or sleep, do not be afraid or embarrassed to consult with your pediatrician or another expert.
And so it goes… As your kids get older, you will continue to prepare yourself for worst-case scenarios while fully enjoying their development more than ever. There will be less in your diaper bag and more experiences in your memory banks. Keep the positive expectations coming – you have some amazing stuff ahead of you!
Here's to Strength and Gummy Bears,
Kirsten