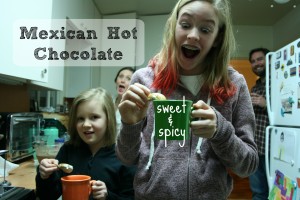 I love serving this easy to make hot chocolate, because of the reaction it gets. The cayenne doesn't kick in fully until after a few sips. The heat makes the chocolate pop and the people say, "WHAT???!" and then "MORE!!!" Serve it with a roasted marshmallow and watch them decompensate. Maybe this is only fun when you're a therapist, but try it anyway?
Ingredients:
4 ounces milk chocolate, chopped
4 ounces dark chocolate (85% dark if you can find it), chopped
4 cups vanilla almond milk
1/4 teaspoon cinnamon
1/8 teaspoon cayenne pepper
marshmallows and/or whipped cream
Technique:
Melt the chopped chocolate in a medium saucepan over low heat. Add the cinnamon and cayenne. Gradually whisk in the milk, about 1/4 cup at a time, until the mixture is smooth and drinkable. Raise the heat to medium, and heat to almost a simmer, whisking occasionally. The idea is to get it nice and hot, without boiling it, which changes the consistency and flavor (not terrible, but not as yummy). Carefully pour the hot chocolate into four small mugs (or one giant one for yourself), top with a marshmallow and enjoy!
Cheryl' Tips:
This is a great dessert on a cold night. I love how heat mixed with sweet can be such a surprise and so pleasing. Try that combo in your interactions with your partner. Satisfaction guaranteed.
Here's to Sanity and Braces,
Cheryl